June 5, 2012
Want to know how to make a grown woman scream with excitement like a little kid on Christmas morning?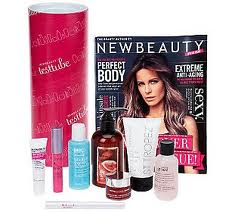 If so, I'll let you in on a little secret.  If you know someone that loves trying new products and loves surprises, you'll be her new BFF when you surprise her with one of these New Beauty Test Tubes from QVC! 🙂
I was thrilled when I received my Spring 2012 Test Tube from BigSis.
Even after several wonderful presents and a surprise visit for my birthday, BigSis sent me one of these just weeks after my "big" birthday. I've been on a bit of a "beauty product budget" lately so it was extra special receiving this Test Tube!
If you want to make sure to get one of these quarterly Test Tubes, you need to order it as soon as you see it advertised on QVC because they only have a limited quantity. Here are all eight of the products that were included in the Spring 2012 Test Tube.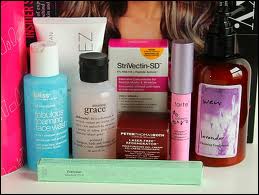 First of all, I was really surprised to see the generous size of some of these products. There are usually 8 different items in each $29.95 kit, plus a New Beauty Magazine which would set you back $10 if you bought it alone. Many items are full-size, like eye liner, mascara, eye shadow and lip gloss.
Out of the 8 products in this test tube, I've tried five of them and these three are my favorites.
Peter Thomas Roth Laser-Free Regenerator (1 oz size retails for $68)
I fell in love with this product from the very first time I used it! It claims to regenerate, moisturize, firm and calm the appearance of dull, damaged and overexposed skin. It's also supposed to help diminish fine lines and wrinkles and give a more even skin tone and texture.
Because of it's unique pink gel-cream formula, just a little of this product goes a long way. It glides on so smoothly and makes your skin feel super-moisturized and hydrated. Here's a little description from Peter Thomas Roth about the ingredients:
Helps diminish the appearance of fine lines & wrinkles leaving skin radiant and younger looking. Advanced formula is infused with Dragon's Blood (a red resin drawn from the Amazon's Croton Lechleri tree, a centuries old native secret), Niacinamide PC (multi-functional antiaging ingredient), Hexapeptide (helps regenerate collagen & elastin) & a perfectly balanced cocktail of intense skin protectors & moisturizers including exotic extracts of Dragon Fruit, Red Poppy, Fire Tulip, Japanese Cherry & Purple Orchid (to help the appearance of a more even skin tone, a smoother looking texture & increased radiance).
I just used this product at night instead of twice a day and the 0.5 oz sample size lasted me about a month. I really did notice a difference in the overall texture of my skin and some of the very fine lines were diminished after just a month.
It's a little bit of a splurge at $68, but as soon as I've got some shiny gold coins in my beauty budget, this will be my first treat to myself.
Bliss Fabulous Foaming Face Wash (6.6 oz. retails for $24)
This is another product that I loved the first time I used it. It's got a fresh, fruity scent and foams up just right with a very small amount of product. The little tiny exfoliator beads feel so good on your skin yet are much more gentle than most exfoliating products.
Here's a short description from Bliss:
A two-in-one oil-free exfoliating wash for all skin types, this fresh, fruity cleanser contains rose hip extract, milk thistle, passion flower and chamomile in a non-stripping formula that rebalances even the most schizophrenic of skins.
Bliss even states that guys have been known to sneak some as a shaving cream stand-in.  That's so funny to me because this is the first cleanser, in over 20 years of trying, that I've been able to get my husband to use in the shower instead of his Irish Spring bar soap. 🙂
Wen Cleansing Conditioner – This conditioner comes in several different scents; in my test tube, I received the Pomegranate, BigSis received the Cucumber Aloe, while others received the Lavender. It also comes in Fig and Sweet Almond Mint.
A few months ago I received a special offer on a four product Wen kit for $9.99 so I jumped on it! The products that I received were in the Sweet Almond Mint scent and I've been using the cleanser regularly for awhile. I like the results from the Pomegranate cleansing conditioner just as well but I like the Sweet Almond Mint scent better. This cleanser makes my hair super soft and shiny, but it does take getting used to because it doesn't lather up like other shampoos and you may not feel like your hair is getting clean enough.
The Wen by Chaz Dean products are not cheap when you pay full price for the individual products so if you're interested in trying them, check his website for the 30 day supply kits. The 30 day supply for $29.95 is still a good price considering that you get four products. I love all of them: the styling cream, the intensive hair treatment and the texture balm and I'm still using the ones that I received months ago.
BigSis has received several Test Tubes so far, and loves them so she's on auto-delivery to get the new Test Tube once a quarter. Her favorite products have been Wen Cleansing Conditioner in Winter Vanilla Mint, a full-size Mally Voluminous Mascara (retail value of $20 for one, or $28 for two), and most of all, a .5 oz bottle of Kate Somerville's incredible Exfolikate (2 oz goes for $85 on QVC).
She also says the only downside is that lately a few products have been repeated. The last Test Tube included another Wen Conditioner, but this time in the less desirable (in her opinion) Cucumber Aloe. Philosophy Shower Gel has also been repeated, in different scents.
If I've peaked your interest in the Test Tube, the next time it becomes available on QVC, I'll give a "shout out" on our BigSisLilSis Facebook page. So, if you don't already like us on Facebook, now is the perfect time to do so! 🙂

~LilSis