July 12, 2012
Actually, that's not exactly true. At least it isn't the whole story. ShiKai Borage Therapy Dry Skin Lotion
 isn't just the best vegan body lotion I've ever used. It's the best body lotion I've ever used, period. Vegan or non-vegan, it's the best by a mile.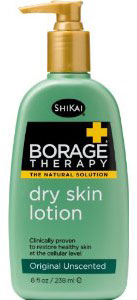 What's so great about it? It works!
The bottle claims that instead of working on the skin's surface, Borage Therapy works at the cellular level, fighting the cause of dry skin and healing it.
It also claims to relieve dry itchy skin quickly, and says that the skin will retain moisture to become healthier and more supple.
I don't claim to know what's happening to my skin at the cellular level, but here's what I do know for sure:
My skin is softer and smoother than I've observed with

any

other body lotion.
The softness stays. Even though there is no stickiness or greasiness, this lotion keeps working. When I shower the next day, I can feel a soothing layer of healing lotion rinsing from my skin. I didn't even know it was still there, but it was still doing it's thing.
When I apply ShiKai Borage Therapy, it sinks in immediately. It doesn't go white on my skin, and it doesn't take a while to absorb into the skin. Who has time in the morning to wait on your body lotion to absorb before you can get dressed for work? Not me.
I use the lightly-fragranced variety, and I love the scent. It's a very soft, almost citrusy scent. There is also an unscented formula if that's your preference.
There are no animal ingredients and no animal testing is used. Sweet!
I found ShiKai Borage Therapy at my favorite hippie health food store, but you can also find it at Whole Foods, through ShiKai's web site, or at Amazon.com
at a great price. I highly recommend it if you want to say goodbye to dry skin!

~BigSis