September 8, 2012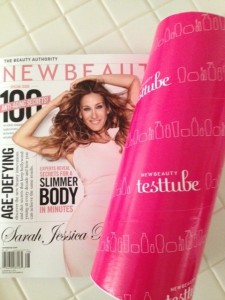 Earlier this week I mentioned that I received my New Beauty Test Tube from QVC for this quarter. BigSis has been receiving these fun quarterly products from QVC for a while now and she was sweet enough to sign me up to receive one each quarter!
We both received ours around the same time, which has probably been a little over a month now and I started using a couple of products as soon as I could get this cute little pink cylinder unpacked! 🙂
I love the the Laura Geller waterproof primer and the Jose Maran Argan Oil, but my favorite product out of this quarter's goodie box of surprises is, without a doubt, the Algenist Firming and Lifting Cream.
Here's how Algenist describes this product:
This ultra-firming and restructuring cream tightens and lifts while reinforcing the skin structure. The unique combination of Alguronic Acid + ProPeptide3 boosts production of skin's key structural proteins: elastin, collagen, and proteoglycans to rebuild firmness and tone the skin. Facial contours are redefined to create a more toned and sculpted appearance.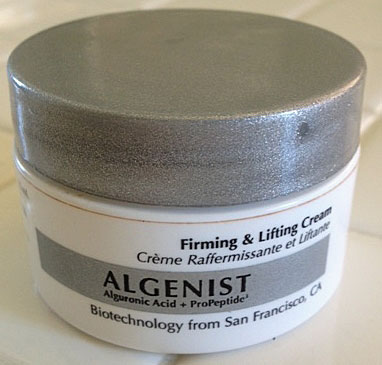 After we had both been using this product for a couple of weeks, we chatted on the phone about it. I thought it was my imagination that I noticed results within just a couple of weeks while I was just using it once a day. When BigSis told me that she was using it twice a day and she definitely noticed a tightening in her skin, I immediately started using mine twice a day.
My skin is definitely tighter, yet softer, and I think, maybe, just "maybe", some of the wrinkles are a little less noticeable!
Here are Algenist's 3rd party Clinical and Consumer Testing Results.
A third-party clinical study of 20 women, aged 45 to 60 years, examined the ability of the Firming & Lifting Cream to firm the skin and increase elasticity over 10 and 28 day periods. Through scientific measurement, the Firming & Lifting Cream is clinically proven to increase skin firmness and elasticity by 15% in 10 days.
We've both tried a lot of skin care products and different creams that claim to work miracles; some working better than others, but this one definitely gets 5 stars from me.
The 1/2 oz. sample size will probably last another week or so, so I would say I might get six weeks out of it. The only drawback I see right now is that the 2 oz. size of the Algenist Firming and Lifting Cream is $94.00.
When I get my beauty product budget back up to par, I do think that it would be worth it because the 2 oz. will probably last almost six months.
Note from BigSis: I agree, LilSis! I do think this product tightens my skin. Now, I'm not saying it looks like I've had a facelift or anything that dramatic, but I did notice that my jowls weren't quite as droopy after I used this cream for just a few days. I had the opportunity to test another Algenist product in a previous Test Tube. I got a nice size jar of their Anti-Aging Moisturizer, and I liked it just as well as the Firming and Lifting Cream. A 2 oz. jar of it sells on QVC for $90, which is a bit pricey so I haven't bought it. I think the alguronic acid must be effective for our kind of skin, since both of these products contain it.
One good thing about QVC is that they put together "try me" kits where you get several products to test, rather than having to buy full-size items before you know if they work for you. I wish they had a kit with both of these products in it, but all I see now is a firming kit and an anti-aging kit.  One last note: Algenist's web site says that they do no animal testing, which makes us happy!

~LilSis