November 25, 2012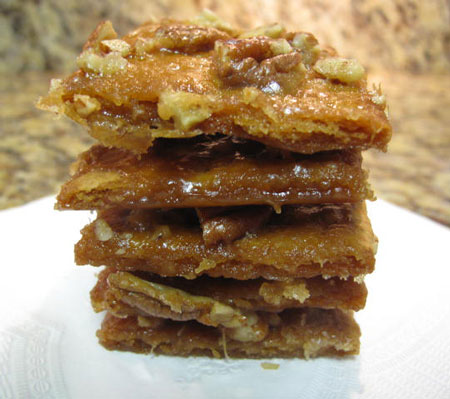 It's bake sale time, which means recipe testing time, and that means this update will be short and sweet! I'm up to my eyeballs in recipes, treat bags, press releases, and save the date postcards!
So let's get to it. One of my co-workers brought these Graham Cracker Pralines to the office, and I thought they were super delicious. Nabisco Original Graham Crackers are accidentally vegan, so I only had to swap an Earth Balance stick for the butter to veganize this simple little recipe.
There are lots of recipes for this treat online; I started with Betty Crocker's Quick Praline Bars recipe. Basically, you lay graham crackers out on a cookie sheet (I lined it with non-stick foil). You combine brown sugar with the Earth Balance, and let it boil for one minute. Then add vanilla, pour the mixture over the crackers, sprinkle pecans over it all, and bake it for 8 to 10 minutes til bubbly. Pretty easy, right?
Some of the reviewers online had various problems with this recipe, but I had none of them. Whew! They firmed up nicely, they didn't stick, they didn't fall apart, and they taste pretty darn good!
I think these are going to make the cut for this year's bake sale, which is scheduled for Monday, December 17th and benefits In-Sync Exotics. BTW, we're looking for individuals and companies to match what we raise, so let us know if you can help with that endeavor!
I'm off to try a new Almond Biscotti. I'll let you know if it gets to come to the party or not!
Note added later:  Nope, the Almond Biscotti has to sit out this party. That's ok though, we have plenty of winners to bring!

~BigSis