December 30, 2012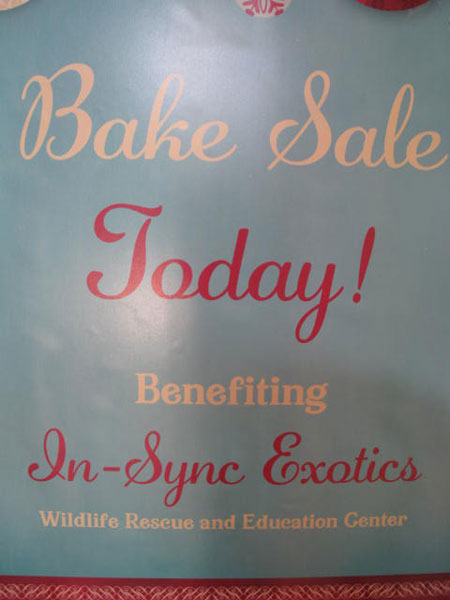 Could I get a drumroll please? The total for 2012's charity bake sale benefiting In-Sync Exotics is…
$15,192!
You read that right. After all the contributions were counted and our sponsor matched them dollar for dollar, the grand total was $15,192. Unbelievable!
We, first of all, thank God for blessing this event! We experienced a lot of challenges and spiritual warfare during the planning and execution of this year's sale. When that happens, it's always a sign to me that we're on the right track to something awesome if the Enemy is interfering to that extent. He was and we were!
Second of all, thank you to our sponsors. Paper Mart provided us with a generous discount on all of our packaging, which helped us enormously. Since all of our ingredients, packaging, printing and every other expense comes out of our personal pockets, we really appreciated Paper Mart's help. Thank you, Paper Mart!
City Vet was back as a third-time sponsor, and we are so grateful for everything they've done for our event. They help promote it via social media, and have donated gift cards and a wide variety of fun things for us to sell and give away. They've also shopped with us, so we're doubly blessed by them and their friendship. Thank you, City Vet!
We, of course, are extremely thankful for the 100% matching gift provided for the second year by our employer. We hope these checks will continue to grow each year as they have been so far! 2011's match was $4,175 and 2012's was $7,596.
Huge appreciation also goes to the In-Sync Exotics volunteer who donated $2,500 to the bake sale total. You, kind lady, are responsible for $5,000 of the $15,192 that went to In-Sync this year. We don't even know what to say about that, except that your generosity is an enormous blessing to the big cats and everyone who cares for them. Thank you!
Last – but absolutely not least – I want to thank all of the bakers! My co-workers Kristen and Lauren were back with all their goodies, and also recruited Erica and Susan for cookie duty. My SisMama baked 105 pound cakes (!), and Cyndi brought a wealth of brownies in all flavors. Thanks for doing this with me, girls! We make a good team!
Because we were so darn busy (good problem) during this year's sale, my photography was a little rushed and skimpy. Following are the photos I did manage to snap before the goodies were snapped up by lots of hungry people with Christmas shopping lists and cash in their hands. Thank you to everyone who made this happen for the wild ones at In-Sync Exotics. We are beyond grateful!

~BigSis