May 27, 2012
Before I went vegan a couple of years ago, I had been vegetarian for over 16 years and had consumed more than my share of Morningstar Farms frozen meat substitutes. I don't really do that any more since I try to eat as few processed foods as possible and less soy, and most of the frozen veggie burgers, patties, and sausages aren't vegan anyway. I'm not really a fan of most of the ones that are vegan, so it works out.
I do get plenty of protein, thank you for wondering. 🙂 One of the ways I do that is through beans, so I was intrigued by this recipe for a burger made with white beans. It's from one of my cookbooks called The Complete Guide to Vegan Food Substitutions
by Celine Steen. It's a fabulous little cookbook that I've glanced through several times, but this is the first time I've made anything from it.
Celine calls this recipe White Bean Cutlets, and says you can use any white bean. In honor of Memorial Day, I made this with navy beans, and am proclaiming it the U.S. Navy Bean Burger!
This is my own little tribute to my nephew and niece-in-law who are serving in our Navy right now. At this minute, they are separated from each other and from their little baby boy, so a big thank you and God bless you goes out to them.
Now for the burgers…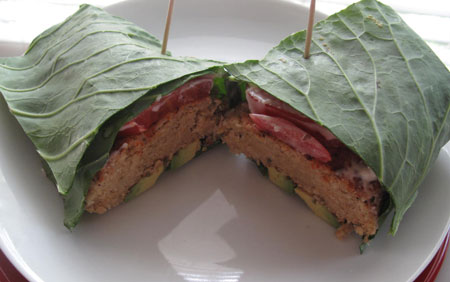 U.S. Navy Bean Burgers (vegan, soy-free, corn-free)
1 15 oz can navy beans, drained and rinsed
1 tblsp minced garlic
1 tblsp dried parsley
1/2 tsp paprika
1/2 tsp Beau Monde
1/4 tsp ground pepper
1/4 cup olive oil
1 cup panko bread crumbs
Oil for sauteeing
In a large mixing bowl, combine the beans, seasonings and olive oil. Mash all together with a fork until few whole beans are seen. Add in the panko and mix together well. Let the mixture sit for 20 minutes.
Divide the mixture into 4 equal portions, and shape into burgers. Saute in a small amount of oil over medium heat for 4 or 5 minutes per side, until golden and crispy on the outside.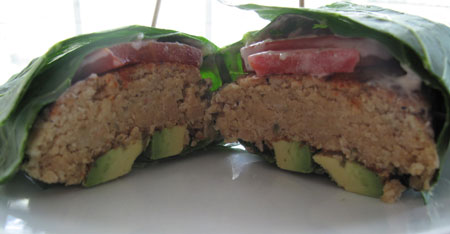 I loved these burgers! You can tell how quickly the recipe comes together. In literally 30 minutes (including sitting time) you can have dinner on the table. You've also spent maybe $2 on entrees for 4 people. You can't even do that at Taco Bell!
My cooking style is usually pretty spicy with big flavors, so this mild flavored burger was a departure for me, and I was surprised by how much I enjoyed it. The recipe lends itself to a wide variety of variations. I think you could add some cooked chopped mushrooms to the mixture, along with any spice combination you like. I followed Celine's recipe pretty closely this first time, just subbing Beau Monde for celery salt, and omitting 1/4 cup of water I didn't need.
So how do you serve these? I'm not big on bread these days (these already have bread crumbs in them too), so I'm into making collards wraps with anything I'd put in a sammie or on a bun. The bean burgers are delicate in flavor, almost like a fish would be, so I added some Veganaise tartar sauce to my wrap, along with avocado and tomato. With a sprinkle of salt and a dash of Frank's Red Hot Sauce, this is a delicious, quick, inexpensive, and healthy lunch for 4.
I'll be back tomorrow with another Memorial Day vegan burger that's the polar opposite of this one. Did I like it as much? Hmmm…we'll see!

~BigSis