March 29, 2013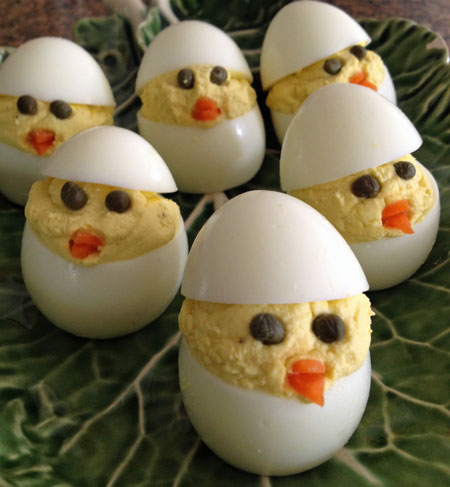 I first saw a photo of these cute little Easter Chicks Deviled Eggs on Pinterest several weeks ago so I repinned it to my LilSis Holiday Goodies board so I wouldn't forget to make these for Easter. This would be a fun little project to get the kids to help with because these little Easter Chicks are sure to be the hit of the party! Let's get started.
First, cut a little slice off the wide end of your boiled eggs to create a flat surface so the chicks will sit flat and not roll all over the plate. Next, on the narrow end, cut a wider section off, that will become the chick's little hat; (about 1/3 of the egg). Carefully remove the yolks from the eggs and place in a bowl.
You can start with your favorite recipe for the deviled eggs; but for this little project, a very basic deviled egg is perfectly fine. It's more about the cuteness of the little chicks than anything else.
For mine, I simply mashed my egg yolks, added a splash of pickle juice, a little mayo, ground mustard, and lemon pepper to taste. No reason to measure, just don't use too much mayo or pickle juice because you don't want the egg yolks to be runny.
When you've got your deviled egg mixture ready, just put in a plastic baggie and cut a little hole in the corner and squeeze the mixture into the egg.  I used capers for the eyes and little triangles of baby carrots for the beaks.
I got in too big of a hurry to take photos along the way, but if you need the visual instructions,  A Thrifty Mom website has some easy step by step photos.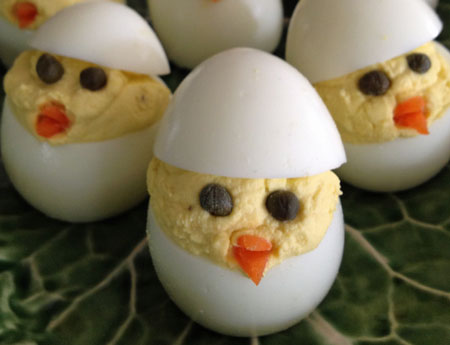 These are fun, simple and inexpensive to make and almost too cute to eat, don't you think?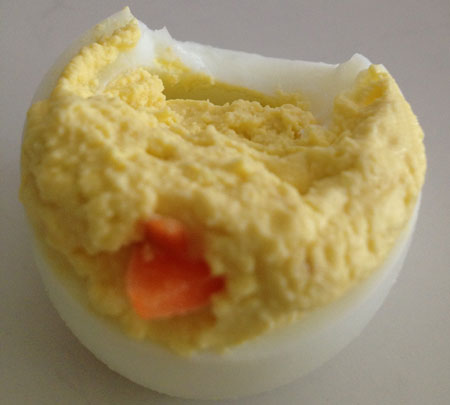 Almost. 🙂

~LilSis