May 26, 2013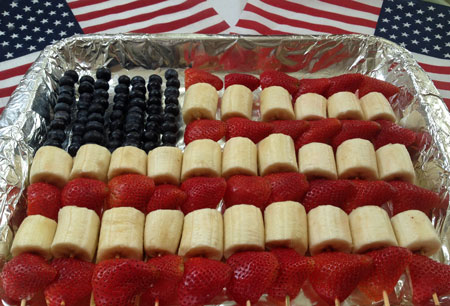 This no-fuss, festive Fruit Flag is the perfect patriotic dessert to take to your Memorial Day or 4th of July celebration!
I found this idea on http://pinterest.com/bigsistexas/ and it was super easy and fun to make.  You could make your flag larger or smaller, depending on the size of your platter. My platter was approximately 12″ x 16″ so I used fourteen 10″ bamboo skewers. To make this size, you'll need 9 or 10 bananas, a couple of quarts of strawberries and one quart of blueberries.
Wash the strawberries and blueberries, cut the top off the strawberries and cut in half lengthwise. Cut the bananas into about 2″ slices and put a little lemon juice on them to keep them from turning brown so quickly.  Put the fruit on the skewers, line up your fruit kabobs nice and pretty on your platter, and your Red, White, and Blue Fruit Flag is ready to go!
(I made four extra skewers with just the blueberries on top and laid those in between the others to fill in the blue part of the flag.) You could also use large marshmallows for the white stripes instead of the bananas, if desired.)
We hope everyone has a very safe and Happy Memorial Day!

~LilSis