December 21, 2009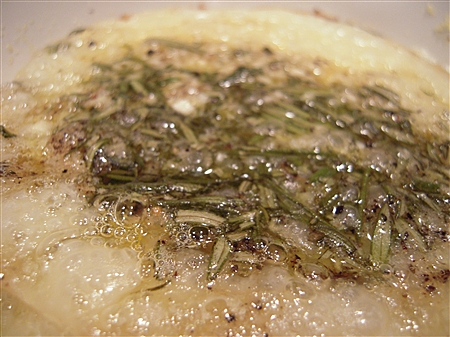 Lovely, ooey, gooey, creamy, bubbly, yummy melted cheese!
What more could you ask for?
Maybe some garlic, rosemary, and olive oil on top?
Oh yeah!
How 'bout some toasted baguette bread to spread it on?
Now you're talkin!
It doesn't get much better than this.
SirHoney & I devoured this entire wheel of cheese, just the two of us, within minutes. I'm not too proud to admit that.
Unfortunately, my habit of munching on cheese and crackers before dinner is about to come to a screeching halt after the first of the year, so I decided to just go all out on this night.
And, you know what?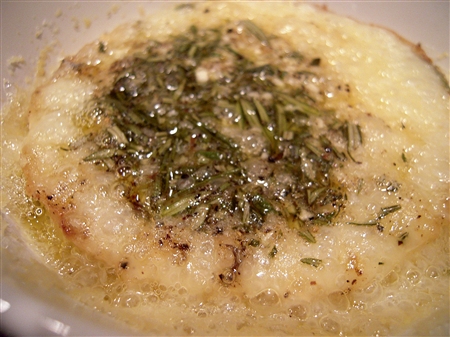 It was worth it.
The minute I saw this recipe, I ripped it out of the magazine because I knew that I'd be making it soon. I found it in the November issue of Food Network Magazine recently while trying to catch up on my magazine reading.
I've always liked Jamie Oliver, and his cookbook, Cook with Jamie, is one of my absolute favorites. I love the beautiful full page photos next to each recipe in his book. I've determined over the years that I'm what you call "a visual learner" so I love this style of cookbook. I need to put his new book, Jamie's Food Revolution, on my Amazon wish list!
His recipe for the Baked Camembert was originally intended to be poured over pasta, but I decided to try it as an Appetizer instead so we could dip into it with some toasted baguette bread slices.
So, dip into it, we did.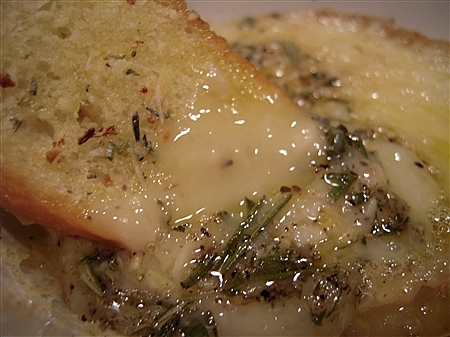 Then, we spread a little,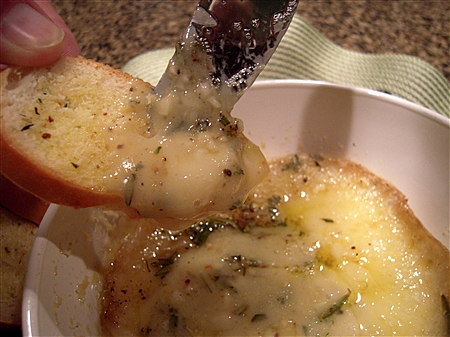 And, then, dipped some more.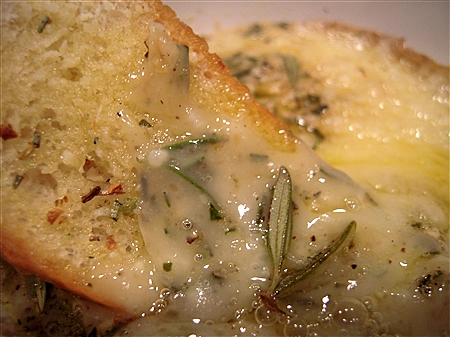 I've baked a lot of brie but this was my first time to bake Camembert cheese so I wasn't sure about the consistency. It did seem a little thinner than brie, so next time I'll try it poured over some cooked pasta and spinach.
Baked Camembert
(adapted from Jamie Oliver via Food Network Magazine)

1 8 oz. box camembert cheese
2 cloves garlic
1 spring fresh rosemary
Fresh ground pepper
Extra-virgin olive oil
Baguette bread
Rosemary Herb Seasoning Mix (I used Pampered Chef)
Slice the baguette bread, brush each slice with a little olive oil and sprinkle with your favorite Herb seasoning. Toast in preheated oven at 350 for a few minutes then set aside. Open the box of cheese and unwrap it. Place it back in the wooden container or put in a small Corning Ware dish. Score a circle in the top of the skin, then lift it off and discard.
The original recipe called for slicing the garlic and just picking the rosemary leaves off from the stem. Since I knew that I was spreading on the toasts and not pouring over pasta, I pressed the garlic cloves and finely chopped the rosemary instead.
Just spread the garlic and rosemary on top of the cheese, sprinkle with some pepper and drizzle with a little extra virgin olive oil. Place the cheese into the preheated oven for 25 minutes. (If cooking in the box, place the box on a cookie sheet before placing in oven.)
Remove cheese from oven and let sit for a minute or two, then dig in. This makes an awesome, quick and easy appetizer perfect for serving at your next party.

~LilSis