May 18, 2012
When BigSis was here in CA last month for my birthday week, we made our usual trip to Trader Joe's. We always try to pop in so BigSis can pick up a few favorite items since there's not a TJ's in Texas…yet!
Yes, Texans, get ready!  Trader Joe's is coming to Texas. There are five confirmed locations in Texas so far. The first stores will open in Fort Worth, Houston and Plano, then in Fall 2012, they'll open in Dallas and San Antonio. (I bet BigSis is first in line when their doors open at the one in Dallas, which just so happens to be pretty close to her house.) 🙂
When she was here, BigSis picked up some of these Wasabi Roasted Seaweed Snacks since she regularly buys the wasabi flavor in the Annie Chun's brand, and loves them. I've tried the plain ones without the Wasabi before and even though I did like them, they smelled a little fishy so I never bought them again.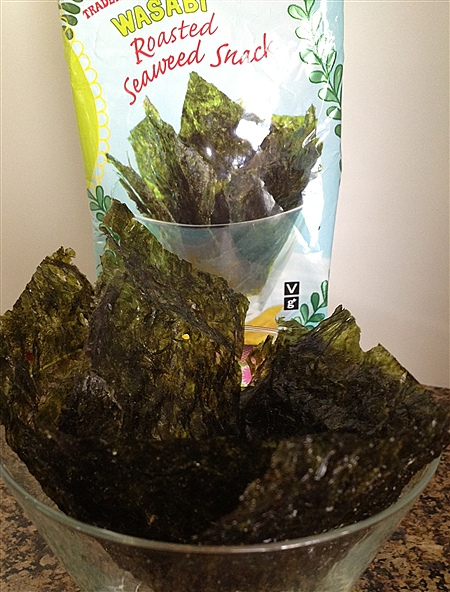 Can you see how yummy and crispy these are? Not only are they a great snack, but this is my new favorite quick and easy, healthy lunch.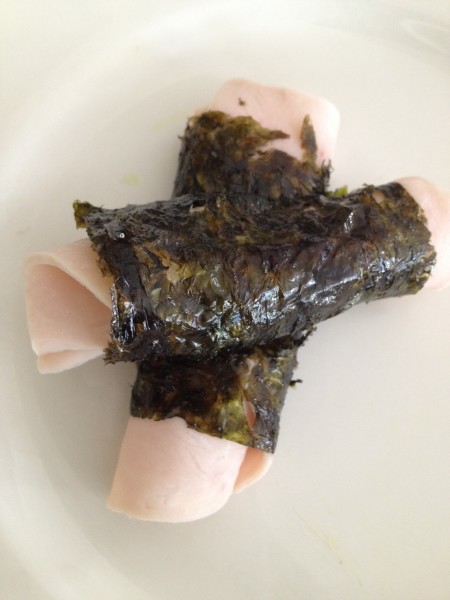 Two or three of these simply wrapped around a half a slice of  TJ's low sodium turkey breast makes a perfect lunch.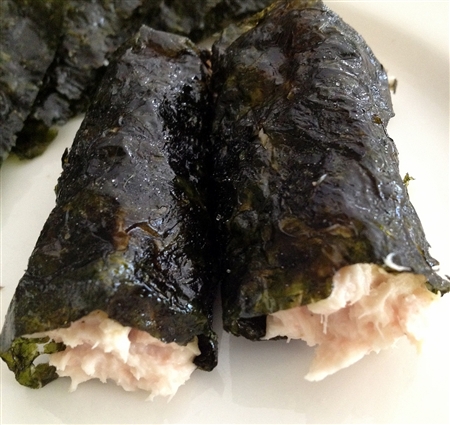 Here are a couple made with TJ's no salt Solid White Tuna.
I've been making these almost every day with either the tuna or the turkey, depending on what I have on hand. It's a great alternative if you're trying to cut back on the carbs. For vegetarians, I've made these wrapped around an avocado and tomato slice and they're super good!
I'm sure I could get even more creative with these; maybe crab and avocado like a California roll? Yummy!
If you're lucky enough to have a Trader's nearby and you like Wasabi, pick these up on your next trip and let me know what you think.
An added bonus is that they're only 99 cents!  And, maybe the best thing is that they satisfy our cravings for a salty crispy snack, but they are actually low in sodium at only 65 mg per serving.
(Just so you know, this is not an "paid" endorsement for Traders, I just love their products and they have great options for low sodium products!)

~LilSis