May 28, 2010
If a product claimed to provide moisture, elasticity and firmness to your skin, as well as to reduce signs of fine lines and wrinkles, and then actually did that, what would you call it?  Would you call it fabulous?  I would call it a flippin' fantabulous miracle!
Well, I've found this product, and it's Borba Age Defying Concentrate/Acai Elastin Fiber Treatment Serum.  And yes, it does work!  I haven't had great luck lately with new mascara and eye cream, but I hit the jackpot with this Concentrate.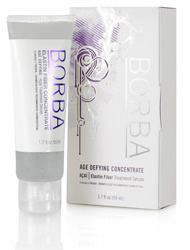 I recently made a quick trip to Dillards to replenish my supply of the Borba Firming Diamond Shimmer Contour/Guanabana Spandex Fiber Body Moisturizer that I use for cellulite treatment.  The salesperson mentioned to me that she loved the Borba line, especially the Age Defying Concentrate.  Lucky for me, the Contour cream came with a sample of the Concentrate, so I gave it a try and was shocked to find that it worked!  I saw some results immediately!  So you know I ran (fast) right right back to Dillards and bought myself a tube ($45 for 1.7 oz).  It's a pretty big tube for a decent price, I think.
The Concentrate has the consistency of a gel, and it goes on very smoothly and soaks in quickly.  I use one small drop morning and evening, and haven't had any breakouts or other adverse reactions to the product.
I've been using the Concentrate for a couple of weeks now, and I have definitely noticed that my "jowls" are a bit tighter.  I also have a saggy little pooch between the corners of my mouth and my chin, and it's a little firmer now.  It's still there for sure, but it isn't as droopy.
So far, I've used 4 Borba products – 3 for the body and 1 for the face – and I've loved every one of them.  What else can you do for me, Borba?  I'm sure I have some other trouble zones that you could work on!

~BigSis