February 12, 2011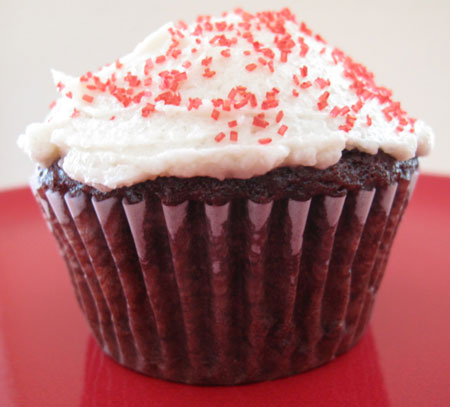 How about another colorful cupcake for Valentines Day?  By the way, have you made the Pomeranian Pomegranate Cupcakes that I talked about a few days ago?  If not, here's option #2 for your Valentine's Day, and it's another vegan one!
These are actually called Crimson Velveteen Cupcakes (I love the name!) and they're from Isa Chandra Moskowitz's book Vegan Cupcakes Take Over the World: 75 Dairy-Free Recipes for Cupcakes that Rule
. I have several of Isa's other cookbooks, but I just got this one and these cupcakes are the first thing I've baked from it.  This cute little cookbook was named the "Cookbook of the Year" by VegNews.
So, back to the baking.  There was nothing weird in this recipe that required an emergency trip to my favorite little hippie health food store (although that would be dandy with me since I love it there).  Just flour, sugar, cocoa, baking powder and soda, soy milk (I used almond), canola oil and flavorings.  It was super easy to whip up, so the recipe wins kudos for that too.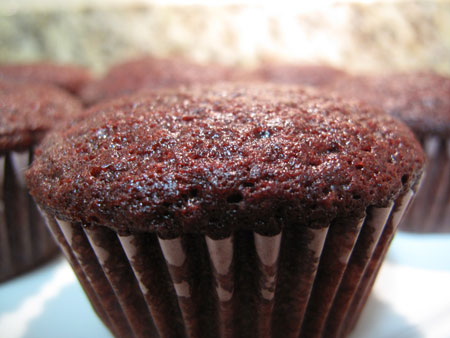 I also made the icing recommended for this cupcake, Old Fashioned Velvet Icing.  I can't say that I'm a fan of it though.  I thought I followed the instructions to the letter, but my icing came out grainy, and I hate to say, it was just a tad weird for me.  Sorry, Isa.  I only iced one cupcake for the photo, and just left the other eleven nekkid.  I'd rather have a nice traditional cream cheese icing on my red velvet cupcakes, so I'll try that the next time I bake these.
And I will bake these again.  They were easy, inexpensive, pretty, and most important of all: delicious and moist!  Run out and buy Vegan Cupcakes Take Over the World
, or use the Crimson Velveteen Cupcakes recipe I found online, but do make these cupcakes!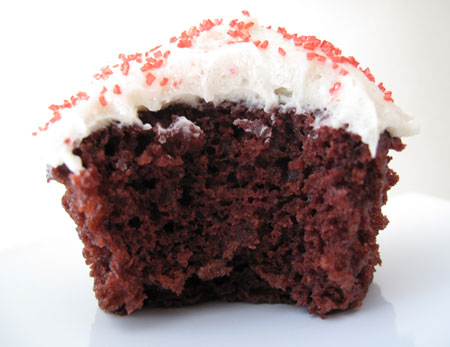 Happy Valentine's Day!

~BigSis