May 23, 2010
Remember a few weeks ago when I let myself run completely out of eye cream?  It wasn't pretty.  In fact, it was darn frightening for the people around me.  Since I was starting at square one, I decided to go on a mission to find an effective eye treatment that was affordable.  I first tried Olay Regenerist Eye Products, with mixed results.  I'm still using the anti-aging eye roller, but the eye lifting serum went right back to the store.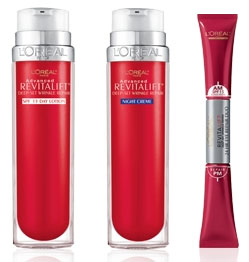 What to try next?  Aha!  I found a package of Loreal's Revitalift Eye Lifting Repair Duo with big half-ounce samples attached of Revitalift Anti-Wrinkle Concentrate (for day) and Deep-Set Wrinkle Repair Night Cream.  I paid less than $20, and got 4 new products to try!  How fun is that?
I've been using all 4 products now for almost 2 months, and have some good news to share.
None of these products caused a break-out!  That's pretty big for my grumpy skin.  90% of the moisturizers and treatments I try will immediately cause clogged pores and/or zits, even if they're dermatologist-tested/approved and theoretically non-comedogenic.
All of the products seemed to do a pretty good job of moisturizing.  Even so, the day cream didn't cause shine to bleed through my foundation in the morning, which some products can do.  Using the night cream with my Tazorac every evening helped to lessen the drying effect that the retinol product can have on my skin.
The daytime eye cream worked fine in conjunction with the anti-aging roller, and didn't get goopy or cakey with my concealer.  The night eye cream was richer than the day version, and seemed fine.  Neither eye products caused any burning or irritation.
Now for the bad news.  I hate that there IS bad news, since the price point on these products is great and there was a fair amount of good news. But Loreal's Revitalift line is about advanced anti-aging action and wrinkle repair.  Did I see any lessening of wrinkles?  I don't think I did, I'm sorry to say.  If there was any improvement, it's so slight that I haven't really noticed.
I'll probably keep using these products occasionally until they're gone, but I don't think I'll repurchase.  I'm still on a mission for the best eye cream.  Any ideas of what I should try next?  Be sure to come back for this week's Fabulous Friday when I'll share my review of an anti-aging skin serum that actually does work! 


~BigSis