March 3, 2012
I love BigSis' tutorial on Depotting the MAC Eye Shadows! Since my shadow collection is very similar to hers, with just over 50 of the adorable little pots, I'm going to try to find some time to depot mine soon.
My makeup drawers have become annoyingly messy, so I'm working on a little reorganizing project that I'll be sharing with you soon.
Here's what my MAC shadow drawer looks like now.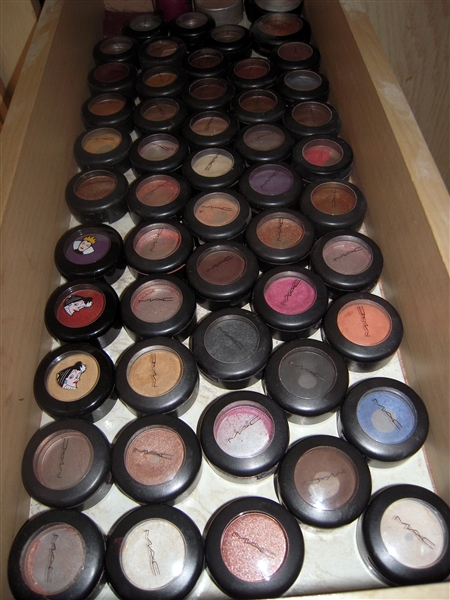 As long as we're talking about MAC, I thought it would be fun to share with everyone a couple of my new favorite MAC products.
BigSis gave me a MAC gift certificate for Christmas and I had just run completely out of my eye cream, so I decided to give MAC's Fast Response Eye Cream a try.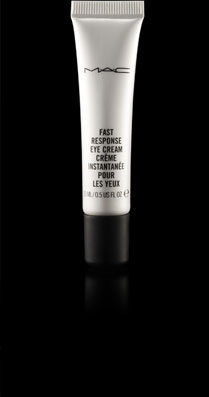 Here's what MAC says about their Fast Response Eye Cream:
The super-charged, caffeinated cream with instant effects. De-puffs, erases the look of dark circles, firms, soothes and softens skin around the eye. Special optics act like magic to fade away lines.
Sounds good, huh? Since this eye cream is caffeinated, I use it first thing in the morning and I use a different one at night. So far, I'm happy with the results I see from this Fast Response Eye Creme.
I've noticed some firming around the outside of my eyes and it definitely helps with the morning puffiness, which I seem to have almost every morning these days. And, most importantly, this eye cream doesn't leave my under eye area dry so my concealer still glides on nicely on top of it.
Another MAC product that I've been using for awhile that I really love is MAC Mineralize SkinFinish Natural.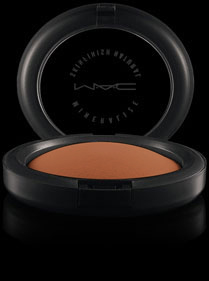 I used MAC's loose powder for years and besides the fact that it didn't last long enough, they made the container smaller so I stopped buying it.  For $29.00 versus the $23.00 for the loose powder, the Mineralize SkinFinish Natural compact is a much better bargain because it lasts so much longer.
It doesn't take much of this product to get nice coverage. I just swipe my big powder brush over it a couple of times and the powder goes on in a really nice matte finish. It evens out my skin tone so much better than the loose powder. There are about nine shades to choose from so there's something for everyone. My shade right now is Medium Dark and I love it! If you aren't happy with what you're using now, I would highly recommend giving this a try!
Even though I don't have quite the collection of empties that BigSis has now, I just discovered that I have six empties so it's time to head to the MAC counter to pick out a new lipstick. 🙂
If there are any other MAC fanatics out there that have a new favorite product or a favorite eyeshadow or lipstick shade that they'd like to share, we would love to hear from you!

~LilSis