June 5, 2010
I zipped up to Ulta the other day to look for the Essie Resort Collection nail polishes that LilSis told us about. Guess what?  Gone!  Bummer.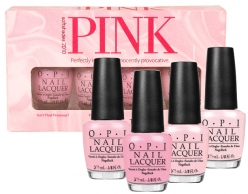 I did find another fun collection though, and surprise surprise…it's my favorite color: pink.  OPI Pink!
This collection includes 4 pale pink colors that are all different.  Here are the colors and OPI's description of the shades:
Isn't That Precious:  A precociously pretty light pink.
Pink A Doodle:  Oodles of shimmery pale pink.
I Think In Pink:  And I think I love this pop of pink!
It's A Girl:  And she adores this baby pink!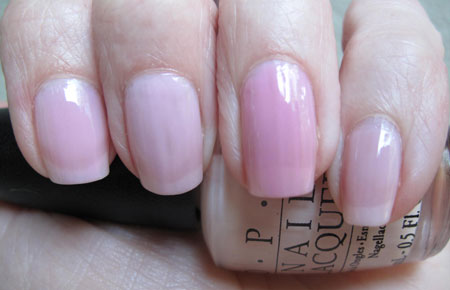 I'm wearing 3 coats of all 4 colors in order, starting with Isn't It Precious on my index finger and ending with It's A Girl on my pinky.  Please forgive my sloppy polish application; I was clearly in a big hurry! 

I use mostly Essie polishes, but I was pleased with these OPI polishes.  They dried quickly, with great shine (without a top coat) and no bubbles.
I liked most of the colors, but Pink A Doodle was pretty streaky and I didn't see much of the advertised shimmer.  I Think In Pink was a little more pink than the other shades; even a bit too much pink for me when it comes to fingers (toes are another story!).  If I had to choose a favorite, it would probably be It's A Girl, since it was still a bit sheer and pretty neutral without being too pinky.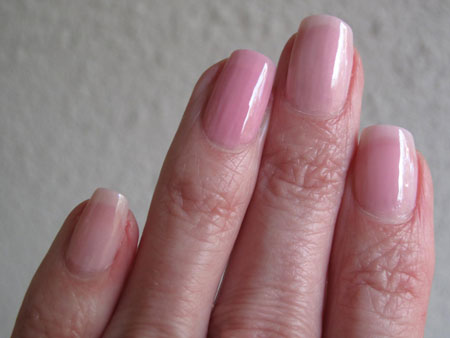 If you can't find this kit of 4 mini polishes, look for the colors individually in regular size bottles.  So tell us, have you found any fun new polish colors for this summer?

~BigSis