January 10, 2013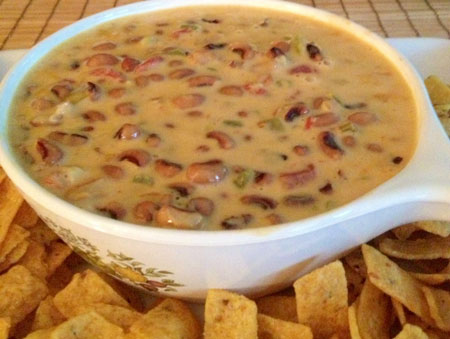 Every year between New Year's Eve and New Year's Day our family consumes a ginormous amount of black-eyed peas; but, I may have finally gone a little bit overboard.  This year my black-eyed pea eating marathon started around noon on New Year's Eve when I started cooking them and ended late on New Year's evening when I polished off what was left.
We've always said that you can never eat too many peas on New Year's since they're supposed to bring you good luck, but I'm sure that I probably consumed several hundred of those little black eyes. Is that overkill?
Don't know yet. I guess time will tell.
Our Southern family tradition has always been to serve ham, black-eyed peas,  greens and cornbread at midnight on New Year's Eve. We've done it for as long as I can remember and I continue to do it every year whether it's for a large group of friends or just our family. This was last year's dinner plate.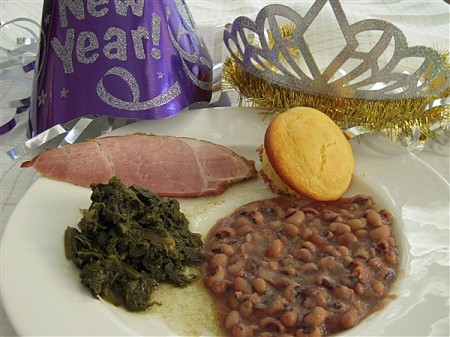 This year we were invited to a neighbor's house for New Year's Eve so I decided at the last minute to make this Cheesy Black-Eyed Pea Dip to share with our friends for some added good luck!
Cheesy Black-Eyed Pea Dip
(adapted from Recipe Girl)
1/2 cup butter
1/2 medium onion, chopped
16 ounces Mexican-style or regular Velveeta
3 (15-ounce) cans black-eyed peas, rinsed & drained
1 medium jalapeño pepper, seeded, ribs removed & diced
1 can stewed tomatoes, drained and chopped
2 (4-ounce) cans chopped green chilies, drained
1/2 teaspoon garlic salt
In a medium saucepan, melt butter over medium heat. Add onion and sauté until golden brown. Turn heat to low, add the cheese and stir until melted. Add peas, peppers, chilies, tomatoes, and garlic salt. Continue to cook for 5 minutes, stirring constantly. Pour into a crock pot or and serve hot with chips.
Note: I couldn't find the Mexican Velveeta at my store so I used the regular instead and just added some chopped stewed tomatoes, an extra can of green chilies and an extra can of peas to make it a little chunkier. I also eliminated the green onions from the original recipe because I just don't like them.
This dip is very similar to another family favorite and one of the guys'  most requested football watching snacks; the infamous Rotel Dip.  The main difference between the two dips is that this one uses the black-eyed peas instead of ground beef, which makes it perfect for vegetarians.
And, something tells me that BigSis knows exactly how to turn this recipe into a yummy vegan dip. 🙂
BigSis' Vegan Twist: You got that right, LilSis. No one loves a dip more than mwah, and I've probably eaten my weight in that Rotel dip over the pre-vegan years!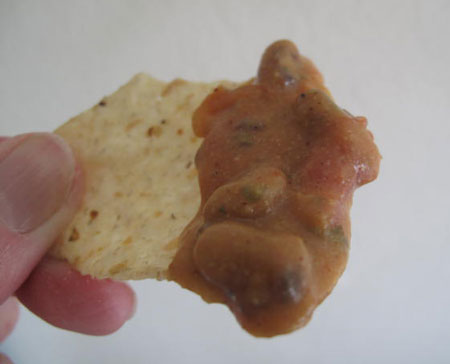 This is actually a pretty easy recipe to veganize. Just nix the Velveeta and substitute a vegan queso. You can find several brands on the shelves of Whole Foods and other grocers who carry natural foods. I prefer to make my own with just a few ingredients like flour, nooch, tomatoes with chiles, and a bunch of spices. It sounds weird/gross, but I even feed it to non-vegetarians and they eat it up.
I started with a bunch of sauteed garlic, jalapeno and onion then built my usual queso and tossed in the peas.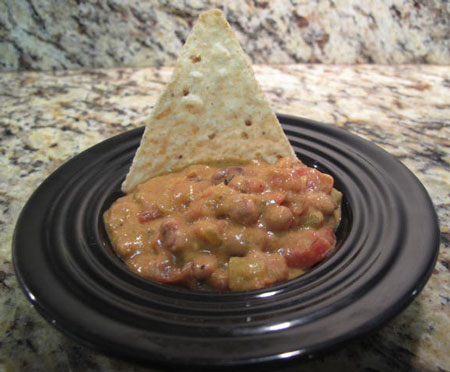 My version of the black-eyed pea dip is thicker than the Velveeta version, and not that photogenic really, but I'm fine with that. It's darn tasty, and now it's gone. Happy new year, everyone!

~LilSis