December 3, 2010
BigSis just talked about her Top 4 Tips to get your Christmas Planning Started and since we're both crazy, obsessed organizers and list makers, I wanted to talk a little more about this topic before we move on.
There isn't anything more important around this time of year than planning, planning, and more planning. It's an absolute necessity for me in order to keep myself from getting totally overwhelmed and stressed out!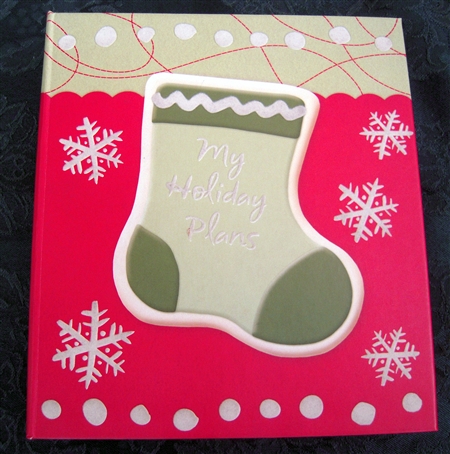 I have this adorable little hard back holiday planner that I bought at Hallmark five years ago and I still use it every year.  I actually leave my previous years pages in the planner so I can refer back to them when planning my shopping list. I like the fact that I can look back and see what I bought family members and friends in previous years.
In my planner, there's a tab for the Calendar, Notes, Card List, Shopping List, and Gifts Received. The pages for Christmas cards are ideal because below each persons name and address is the year and a place for you to check off if you sent a card and if you received a card.
(Helpful hint: Write all your addresses in pencil; so when an address changes, you can just erase it and you don't end up with a bunch of old, scratched out addresses in your planner.)
I haven't checked Hallmark to see if this particular planner is still available, but why buy one if you can make your own? I've discovered through browsing the Internet that there's a great selection of forms available to download for free.
Here are a few sites you can visit for FREE Christmas Planner forms.
Organized Christmas has a huge selection of forms to help you create your very own customized Christmas planner, including printable dividers. (Their Christmas Card form is very similar to the ones I have in my planner.)
Clever blogger, Meck Mom puts her spin on Christmas planning by creating these great forms for planning, budgeting, and gift giving.
Family Fun has instructions and some cute forms to help you create Ann's Amazing Holiday Planner. She has a couple of different forms such as Holiday Memories and Holiday Menus and Party Planning.
Hopefully, some of this info will help you get organized for this Holiday Season. I've already printed out some of these forms to use in addition to my Holiday Planner but now I've got the itch to create myself an entirely new full size Christmas Planner. 🙂

~LilSis