March 9, 2010
Last week I talked about the Origins Youthtopia eye cream that I bought recently to replace the "more expensive" brand that I'd been buying. As luck would have it, I ran out of my moisturizer at about the same time I ran out of the eye cream. So, while I was at the Origins counter searching for the eye cream, I took a peek at their choices in moisturizers.
After looking over several options, I decided to try the Have a Nice Day Super-Charged moisture lotion. This is Origins description of Have a Nice Day.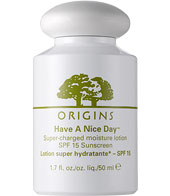 Your skin hasn't a care in the world when stimulating Ginkgo Extract, firming Birch Extract and nourishing Soybean Oil fortify it with everything it needs to face the day in a positive way. Origins potent blend of UV protectors, including nature's own Titanium Dioxide, defray the rays. Vitamin E stops environmental no-goodniks. Skin runs smoothly sun up to sun down. And one whiff of the gung-ho Grapefruit aroma gives you a sense of can-do optimism.
At first I wasn't real crazy about the screw top lid on this container because I was used to having a pump, which just makes it a little quicker and easier to dispense, but now that I've gotten used to it, it's not a big deal and I think that there's probably going to be less waste. With a container like this, it'll be a lot easier to get every last little drop out of the bottle, which is not the case with the bottles that have the pump. (I never could figure out how to hack into the Chanel bottle.)
There are a few things I love about this product. First, I love that it has an SPF 15 just like the other brand. Even though SPF is not a lot of sun protection, at least I know that when I put this on every morning, I've got some sun protection.  If I'm knowingly going to be out in the sun, I'll put on a SPF 30 or 45 on top of this. I also love that when you apply this product, you get a whiff of the grapefruit aroma. I first fell in love with the grapefruit scent when I started using the Origins Gloom Away products. And, in my opinion, this product goes on just as smoothly and feels just as hydrating as the Chanel.
What I love most about Have a Nice Day is that it retails for $36.00 for a 1.7 oz. bottle versus the $86.00 that I was paying for the exact same size in the other brand. When you think about it, that's $100 savings for every two bottles I buy. That's huge!
Now if I could just find a more affordable "anti-cellulite" cream! 🙂

~LilSis