September 18, 2011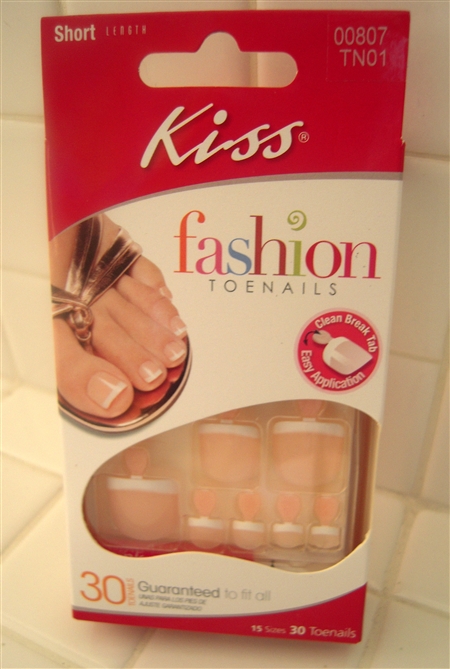 One of my best buds, Patty, recently turned me on to these Kiss Fashion Toenails and I'm happy that she did because if she hadn't, I never would have bought them. I never was a fan of the old Lee Press On Nails because they didn't even look remotely natural to me.
When I first saw these nails on Patty, I thought her toes looked great and I was just about to ask her if she treated herself to a french pedicure, but she was so excited about her "find" that before I could even ask the question, she burst out with "Didn't you notice my toes?"  :-)
BigSis and I both have always been pretty fanatical about maintaining a nice pedicure. I can't even wear clear polish on my fingernails because of my job, but I never go without color on my toenails. My sister has always done her own pedicures and they look great, but I've never, ever been able to paint my toes nicely.
I usually treat myself to a cheap pedicure at a local salon about every 6 weeks or so and I just touch them up in-between appointments. And, in the summer time, I keep acrylics on my big toes for several different reasons. For $25.00, it's well worth it to me because I kill too birds with one stone since I get to sit in one of those amazing massage chairs while getting my pedi. It's a great stress buster for me.
Anyway, lack of time and money has kept me out of the nail salon for WAY too long and this is how bad my pedicure looked before I tried these nails. You can tell that I lost the acrylic on the right big toe and tried to camouflage it, but it still looks horrible.  I should be humiliated to show this "before" photo, but just tryin' to keep it real.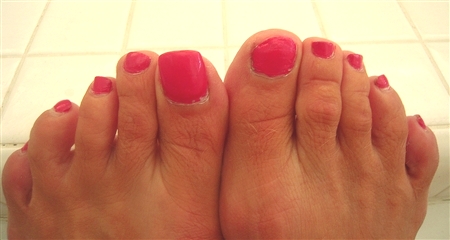 Maybe I like having a nice pedicure because it makes the ugly toes look a little better!

At Wal-Mart or CVS, you'll find the Kiss toenails for only $6.99 and you get a box of nails with a great selection of sizes, the glue, and a nail file, in case you want to file them down more. I was a little skeptical about being able to find a size to fit each weird shaped toenail and my big toes but since it says right on the box 'Guaranteed to fit all', I figured I had nothing to lose by trying them.
I was pleasantly surprised with how easy these were to put on and with the way they turned out. I guess press on nails have come a long way because these Kiss fashion toenails really do look pretty darn close to a professional french pedicure.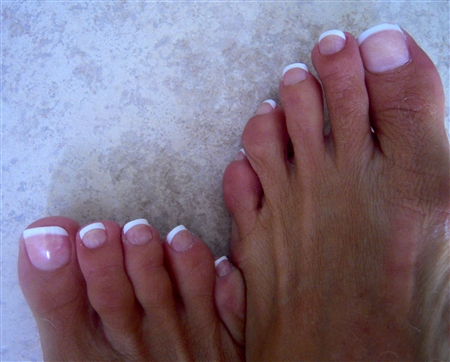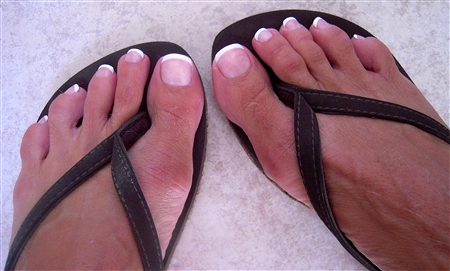 Not too bad, huh?
This first set that I tried was the short version but the next box that I bought were the super short ones and I liked those even better.
And here are Patty's cute little toes.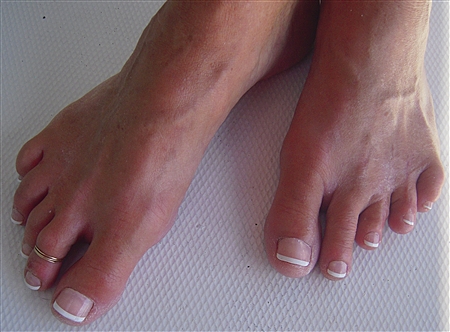 And for any of you who may have suffered an unfortunate trauma to a toe or perhaps undergone a hammer toe surgery with complications and permanent loss of a toenail, as Patty did, these nails can be glued right to the missing nail bed.  It's a fantastic fix and no one would ever guess!  See, you can't even tell which one of Patty's toes is really missing the toenail.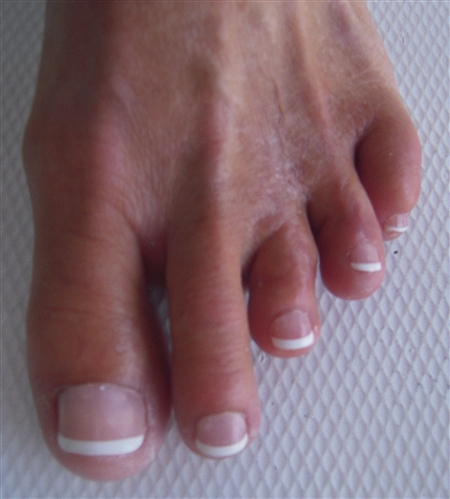 These are super easy and super fast to put on so if you ever find yourself needing a quick pedicure and don't have the time to get to the salon, you might want to give these Kiss fashion toenails a try! And, I'd love to hear what you think if you try them.
My only advice is to remove these the proper way, as instructed. Don't get impatient like I did and just rip them off; that leaves the real nail a little damaged.


~LilSis