June 15, 2009
This past week, we had a big fresh fruit salad every morning. If you've been reading, you'll remember that I talked about SirHoney's doctor wanting him to go on the Dash Diet Eating Plan to try to lower his blood pressure. So, I've been buying a ton more fruit and making a variety of fruit salads every day.
I decided since we've been good all week, it wouldn't hurt to have a little treat for Sunday morning breakfast. So, I started with a traditional Potato Pancake recipe and tweaked it a little. This is what I came up with.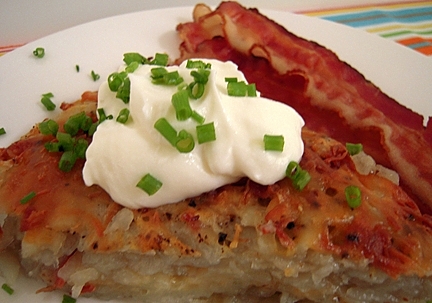 Potato Ho Frosty Gay's Breakfast Potato Pancake
(adapted from Williams Sonoma Everyday Roasting)
3-4 tablespoons olive oil
5 large russet potatoes
12 slices bacon, cooked and crumbled
1 c. grated cheese (I used a light 3 cheese blend from Trader Joe's)
coarse salt to taste
ground pepper to taste
small bunch chives, cleaned and snipped
sour cream, optional
Preheat oven to 425 degrees. Oil a ceramic quiche dish with a teaspoon of the olive oil. Grate potatoes into a bowl, working as quickly as possible to prevent them from turning brown. (You can put the grated potatoes in a bowl of cold water while grating the rest, but be sure to dry really well.) Transfer half of the shredded potatoes to the prepared dish. Sprinkle with some of the coarse salt, a few grindings of pepper, a few drizzles of olive oil, half the bacon and half of the cheese. Put the remaining potatoes in dish and repeat the salt, pepper, olive oil, bacon and cheese.
Roast until potatoes are dark brown and crisp on top yet soft inside, 50-55 minutes. If the potatoes begin to brown too quickly, as mine did, reduce oven to 350 degrees.
Remove from oven and let rest for 5-10 minutes, sprinkle with chives, then cut into wedges. Serve immediately. I couldn't resist adding a big dollop of sour cream to the top!
I'm submitting this recipe to this month's Potato Ho Down.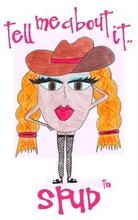 You can check out the full roundup of this month's Potato Ho Down hosted by Krysta at Evil Chef Mom on Wednesday, June 17th.

~LilSis