June 12, 2012
Got Shoes?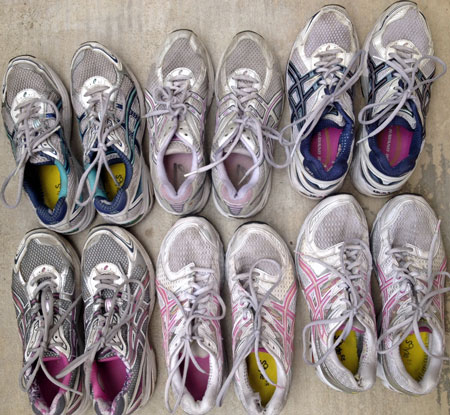 For those of you who are avid walkers or runners, I'm sure you go through your shoes quickly, like I do. The salesperson at my local running store says that I should get around 300-500 miles a pair, depending on several different factors. I'm usually on asphalt and going up and down hills, so if I average around 80 miles a month, I usually need a new pair in about six months.
I keep my old shoes for gardening or walking on the beach but I noticed recently that I have a few too many pair just hanging out in the garage that could probably be put to better use. I'd been trying to figure out the best place to donate all these old shoes when I ran across the Nike ReUSE-A-Shoe Program. Over 25,249,000 pairs of shoes have been collected globally through this program since 1990.
Here's the scoop; straight from the Nike ReUse-A-Shoe website on how they put three high-quality Nike Grind materials to good use.
Nike Grind Rubber

, made from the shoe's outsole, is used in track surfaces, interlocking gym flooring tiles, playground surfacing and even new Nike products, such as the outsoles of the Nike Pegasus or the Jordan XX3. It's also used in trim items like buttons and zipper pulls.
Nike Grind Foam, made from the shoe's midsole, is used as a cushion for outdoor basketball and tennis courts, as well as futsal fields.
Nike Grind Fiber, made from the shoe's fabric upper, is used in the creation of cushioning pads for facilities like indoor synthetic courts and wood courts.
And there's no need to worry about shipping cost; Nike has made this super easy! You can drop off up to ten pairs of used athletic shoes at your local Nike ReUSE a Shoe drop off  location. This recycling program is only for used athletic shoes; they don't accept sandals, flip-flops, boots, dress shoes, or any shoes with metal cleats or spikes.
I put in my zip code and found out that I have a drop off location just 8 miles from my house. Now that I'm ready to say goodbye to some favorites that I've hung on to for long enough, I'm super happy to know that they will be put to good use. 🙂

~LilSis