January 22, 2013
Last week when cleaning out some of the clutter in my pantry, I ran across this recipe that I hadn't filed away.  I've only made it once so I had forgotten how delicious and EASY it is!
Luckily,  my guys don't mind eating Campbell's Tomato Soup or Chicken Noodle Soup occasionally, but I don't eat canned soup at all; mainly because it has WAY too much sodium for me.  I absolutely love making homemade soups but since most of us don't always have that much time, it's nice to have a few quick and easy, family-pleasing recipes on hand to make on those busy days.
This recipe is very similar to the Hearty Chicken Italian Sausage Soup recipe that I've made a couple of times but for some reason, my family really loved this soup.  Anytime I can make something this easy and have the family rave about it, I am one happy camper!
I doubled the amount of sausage from what the original recipe called for and also added three times the amount of spinach, so each spoonful was just perfect! 🙂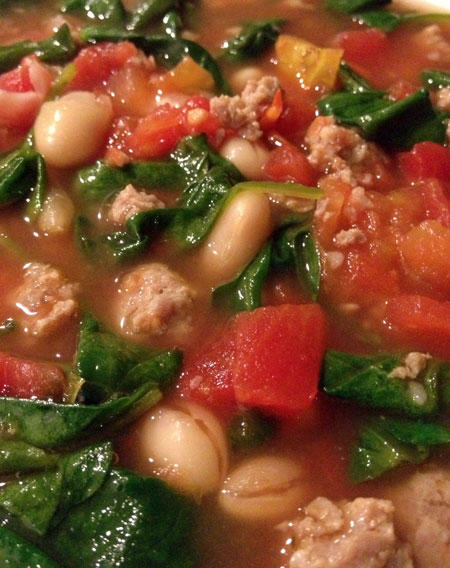 Sausage, White Bean and Spinach Soup
(adapted from Cooking Light)
5 turkey Italian sausage links
2 t. extra virgin olive oil
1 c. chopped onion
2 or 3 cloves garlic, minced
1/2  c. water
1 15 oz. cannellini beans, rinsed and drained
1 28 oz. can diced tomatoes
32 oz. low sodium chicken broth
6 cups baby spinach
3 T. chopped fresh basil
Remove sausage from casings. Heat oil in large saucepan and cook sausage in the oil until browned, stirring to crumble. Add onion and garlic to pan, cook for 2 minutes. Stir in water, beans, tomatoes, and broth. Cover and bring to a boil. Uncover and cook for another five minutes or so until soup thickens slightly.
Remove from heat and stir in spinach and basil. You can top with grated Parmesan cheese if desired.
Note: If you've got big grown boys who don't necessarily consider soup a main course, I made a pound of pasta shells on the side and let them add pasta to their bowls to make the soup a little heartier.
BigSis' Vegan Twist: This is an easy one! I'd use veggie broth instead of chicken, and just leave out the sausage. Since I'm a kale freak, I might use it in place of the spinach. I love it in soups. On top of being a nutritional powerhouse, it adds a lot of texture, whereas spinach gets more wilty.
I bought the new Trader Joe's vegan mozzarella shreds recently, and to me they have more of a parmesan vibe so I bet they would be tasty sprinkled in this dish. I think this soup sounds awesome, and I'm trying it soon!

~LilSis