October 1, 2010
It seems like I just blinked my eyes and September is gone. In my mind, it's still August, so I  can't believe that it's already October and time to start talking about the holidays.
(Is is just me or does time fly by faster the older you get?)
In September, I found myself in an extremely stressful situation and the stress and anxiety leading up to it and during it took a real toll on my body and my mind. By the time it was over, I was more mentally exhausted than ever before. This particular situation is mainly what led me to post this quote about anxiety and I've made the decision that I'm never going to let stress wreak havoc on my body like that again.
Since it's been a few weeks, I've managed to wrap my brain around the situation and I'm in the process of taking a serious look at priorities, opportunities, and the challenges that may lie ahead depending on which way I turn at that fork in the road.
Actually, for the past several months, I've been trying to deal with issues that aren't in my control and I'm learning to take one day at a time and live by the theory that everything happens for a reason.
I count my blessings every day and I'm trying harder to appreciate the little things in life and be grateful for what we have today. As we all know, everything can change in an instant. I'm making a conscious effort to live more in the present moment than to worry about what's going to happen next month.
There were a lot of great moments and lots of things that I LOVED during September. Here are just a few.
I don't have a photo of the big day, but our youngest grandson turned two last week and in a couple of months he will welcome home a baby brother!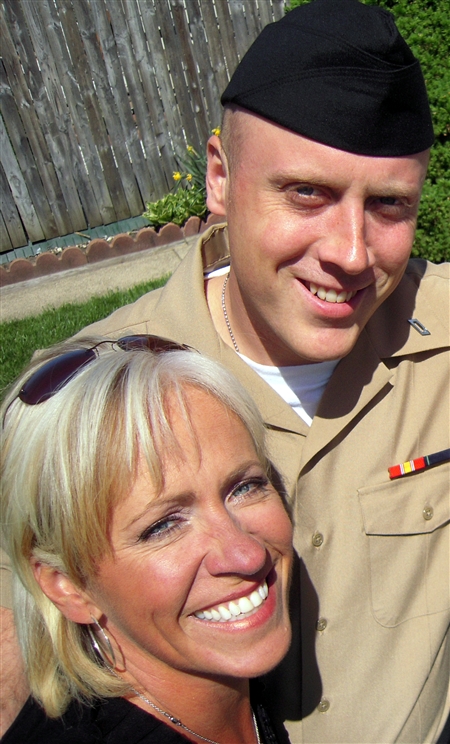 Bry graduated with honors from his "A Training" class in Great Lakes last Friday. And the great news is that he got stationed in San Diego and will be here with us soon.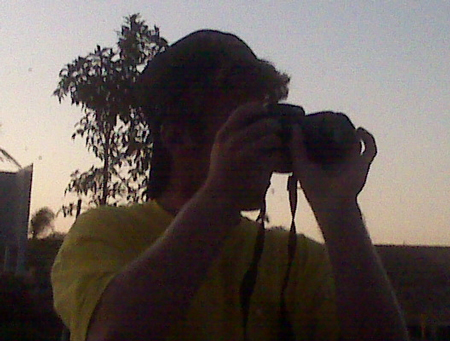 This was a great moment for me, even though a bit emotional. Last week, I had only been home from my trip for a few hours and Hay realized that it was a full moon so we hopped in the car and drove up the nearest hill so he could try to snap some shots of the moon.
When I saw him with his new camera and realized that he really is a natural and he has a great creative eye, I got out my phone and took this photo. (Apologies for the quality of the photo.) My dad was a photographer his entire life and I wish that he was here to see Hay follow in his footsteps. Hay's Pappy would be so proud.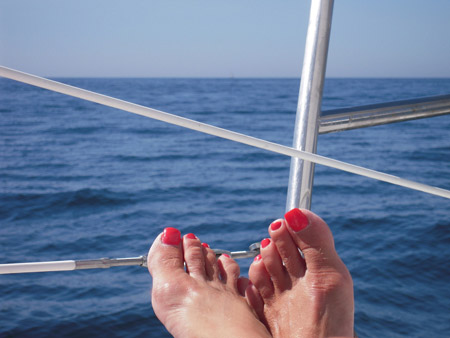 Last weekend, I went on my first sailboat ride with some great friends and it was even more relaxing and peaceful than I ever could had imagined.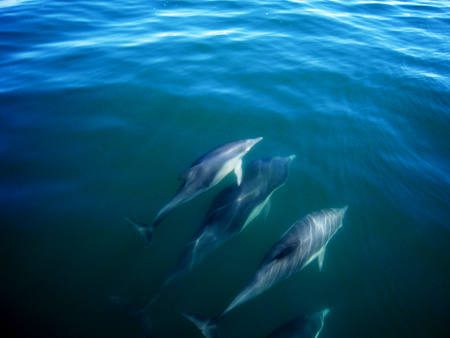 I loved that I had my camera ready when these four little dolphins popped up right next to the boat.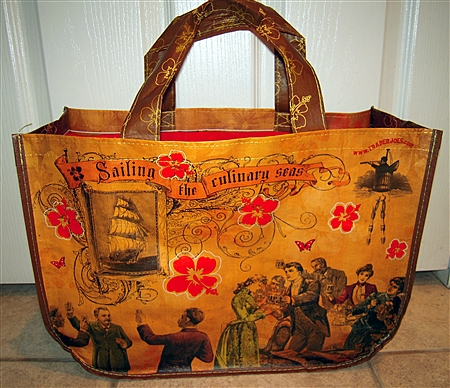 And this may seem really silly but I can't even explain how much I LOVE my new reusable Trader Joe's bag. It's perfect for toting around all my other reusable bags and for taking on an afternoon of errands to eliminate using a bunch of little plastic bags. I've even used it as an overnight bag already. I'm almost as happy with this new $1.99 bag as I would be if I just got a new Coach purse.

More things which made me smile:

Going to dinner with BigSis while in Dallas

Trader Joe's Lavender Tripled Milled Soap
Spending half a day at the beach catching up on unread magazines
Cheryl Tall's exhibition in Tucson, AZ
Reaching into my nightstand one night and grabbing The Creativity Book by Eric Maisel
Lisa Leonard's Creativity necklace
My new Bath&Body Works Wallflower in Nutmeg & Kitchen Spice (now my house reminds me of BigSis' house)
Ordering a pair of Sanuk Yoga Mat Sandals
Going on a bike ride with my hubby
Catching up with an old friend that I haven't talked to in months and felt like it was just days ago
Discovering my new favorite vodka, Chopin
These yoga pants covered in butterflies
Celebrating a great friend's birthday over dinner and lots of laughs
Trader Joe's Roasted Seaweed Snacks
Laurie Mika's mixed media mosaics
Back to School night at the HS (makes me feel like a kid again.)
I'm confident that October will bring more special moments and things that make me smile. I'd love to hear what makes you smile.



~LilSis