April 1, 2011
Do I have a surprising food find to share with you!  And guess what, LilSis?  There's one in your hood!
I'm talking about Loving Hut, a casual and inexpensive vegan cafe. They don't use any MSG, dairy, eggs, or any animal products at all.
So if food is super-affordable, fast, full of veggies and protein, and cruelty-free, is it doomed to taste like an old shoe?  An old stinky shoe?
Absolutely NOT, if you eat at Loving Hut!
I just spent a week in Houston on business with a couple of my girls from the office: one pescatarian and one omnivore.  Plus me: 99% vegan for 15 months so far and vegetarian for 17 years.  We stumbled upon Loving Hut (thanks to UrbanSpoon) and decided we were all up for a food adventure; for better or worse!
We ordered a feast of dishes to share, and actually had to put some of our food on another table.  Here's what we ordered and devoured: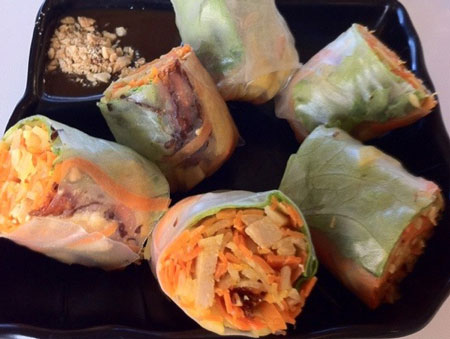 Spring Rolls: Good, but fairly ordinary and a bit bland.  Very carroty!  The jicama was unexpected, and the tofu unnecessary.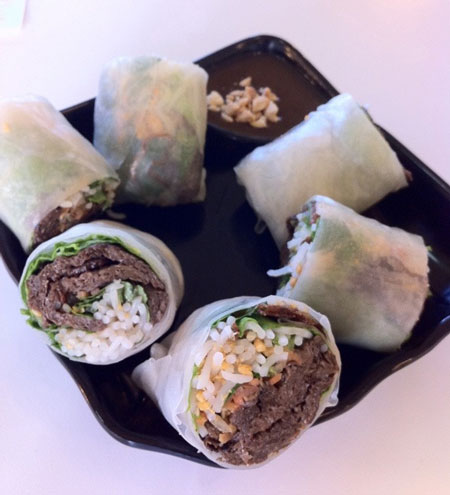 BBQ Roll: Love love love these!  Wow!  This subtle little combo of vermicelli, peanut, lettuce and BBQ soy protein blew all three of us away.  I don't know what that orange stuff is, and I don't care.  I just want more of it.  Maybe it's carrot?  All I know is it isn't cheese and that's all I need to know.  When I get to Arlington's Loving Hut, they better have these. I mean it.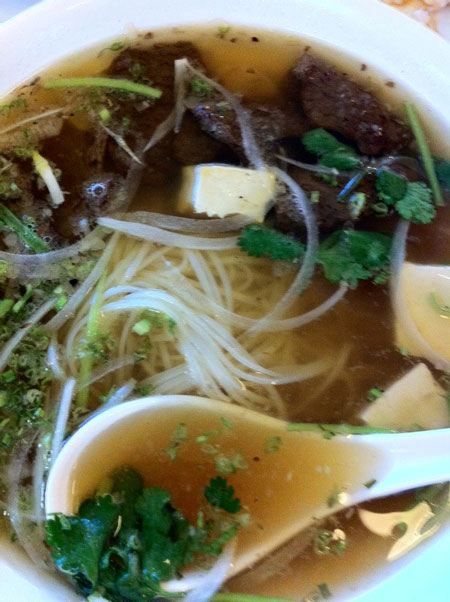 Fabulous Pho: Our least favorite dish of the night, but pretty! The broth was a little too perfumey for us.  It seemed to be a well-done dish, just not to our taste.  The flavor tasted strongly of cinnamon basil to me, and was a little more enjoyable when the spicy condiments were added, but we still didn't love it.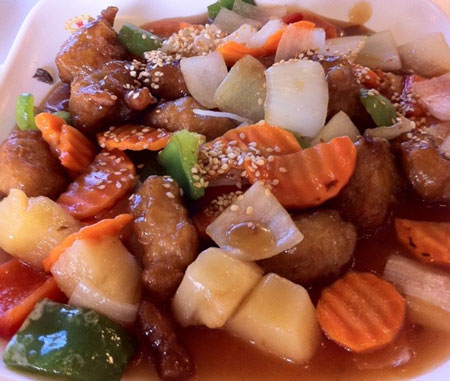 Sweet and Sour Divine: Delicious!  I wished for more soy protein and pineapple, with less carrots, onions and peppers, but the flavor was great.  I'm not usually a sweet and sour fan, but we all liked this.  I suspect it was pretty high in calories though, so this wouldn't be my go-to dish.  Our pescatarian was crazy about this dish.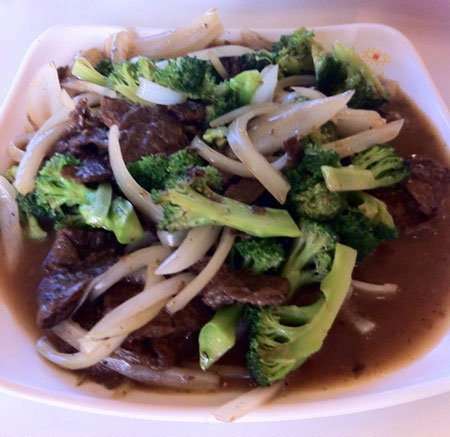 Noble Broccoli: Who could tell this wasn't beef and broccoli? Certainly not our omnivore who always orders it in Asian restaurants!  I loved that the broccoli was cooked perfectly: not too crunchy but not overdone.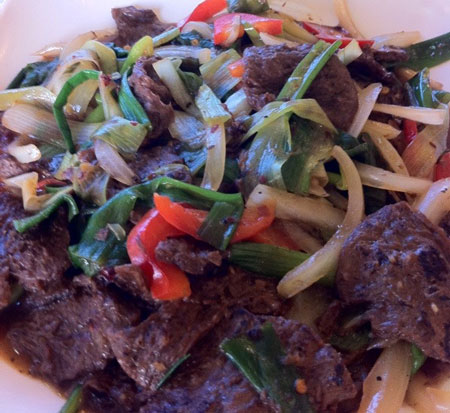 Mongolian Wonder: I ordered this really spicy, but light on the ginger since I think it can dominate.  I would order this again.  The flavors were perfect over a little pile of brown rice.  The rice was a touch sticky, but it didn't slow us down.
Carrot and Apple Juice: I'm not a fan of raw carrots at all, so it was a big step outside my comfort zone to order carrot juice.  This was an adventure though, so I went for it.  The carrot and apple blend was actually tasty and I finished the whole glass.  I think I would have loved it even more if it had been colder.
Jasmine Iced Tea: We all agreed this drink was a little bitter. Maybe a touch of sugar would have helped, but it might have just been transformed into bitter sweet tea.
Sunny Forest: What a light refreshing summer drink this was! We're still not sure about what the "zesty petals" were, but we loved this blend of orange juice, mint and sparkling water.
Out of all these dishes, the only things we weren't in love with and wouldn't order again are the Pho and Jasmine Tea.  The good news?  We have a Loving Hut in Arlington, which is where both the girls live.  We don't have one in Big D yet, so for now I'll have to make a small road trip to A-Town.  To get another order of those BBQ rolls that I can't stop thinking about, it's worth it!
There are bunches of Loving Hut locations in the United States. Look for them in Arizona, California, Florida, Georgia, Hawaii, Illinois, Ohio, Massachusetts, New Jersey, New York, Pennsylvania, Texas, Virginia and Washington.
There are also locations internationally.  Each location has their own menu, so check out the web site for your local Loving Hut menu, if you're lucky enough to have one nearby.
LilSis, you have a few Loving Hut locations to choose from in Southern California.  Take your meat-eatin' boys there and see if they like it!
I know that this kind of food isn't without some downside: it usually has high sodium content and can be high in fat due to the oil used.  But for a vegetarian or a vegan, it's a fantabulous thing to have a quick meal option that actually contains a vegetable or two, and not just beans, bread and lettuce. If you're grabbing an occasional fast meal as opposed to making it a daily habit, I think Loving Hut is a great option!

~BigSis