January 26, 2009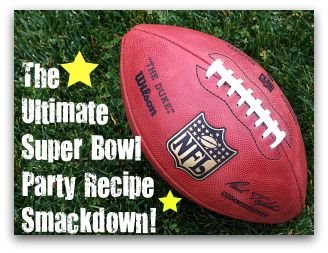 I've decided to enter my chili recipe in the Ultimate Super Bowl Party Recipe Smackdown that The Recipe Girl is hosting in conjunction with Sam's Club.
I almost always host a Super Bowl Party, even if our favorite team isn't participating! It's just another good reason to have a get together with friends! And I love to cook for a big group of hungry guys! They appreciate almost anything!
This year I'm going to make my "prize winning" chili for the Super Bowl. (Okay, it wasn't a famous contest or anything, but I did win second prize and a cute little red ribbon at our recent Chili Cook-off on our dock at the Harbor!)
I've doubled and even quadrupled this recipe, so it's perfect for a large crowd! Here's my version of Chili Con Carne.
LilSis' Chili Con Carne
3 pounds lean ground beef
One sweet onion, chopped
3-4 cloves garlic, minced
1 dark beer
1 (28 oz) can diced tomatoes
1 (28 oz) can tomato sauce
1 can dark kidney beans (drained)
1 sm. can corn (I use Green Giant Sweet vacuum packed)
4 – 5 tsp. Penzeys Chili Con Carne spice*
2 chopped roasted poblano peppers (optional)
1/4 t. cayenne
1/2 t. onion powder
salt to taste
1 T. olive oil
*The Penzeys Chili Con Carne spice, formerly known as my secret ingredient, is so different from just a regular chili powder. It's the reason why you don't see cumin or a bunch of other spices listed in the recipe. Here are the ingredients in this one amazing spice: ancho chili pepper, tomato powder, ground cumin, Mexican oregano, garlic, coriander, onions, red and green bell peppers, Tellichery black pepper, allspice, cilantro, and cloves. If you don't have a Penzeys store nearby, you can order online from the Penzeys Spices website.
Saute the chopped onion in the oil in a large saucepan until onion is soft. Add the ground beef, salt and minced garlic to the pan and brown until beef is cooked throughout. Drain the beef and return to the pan. Add the beer to the beef and simmer for 15-20 minutes on medium heat. Add the diced tomatoes and simmer for another 15-20 minutes. Simmer for longer if you want the tomatoes to cook down more. Add the tomato sauce, roasted peppers, and Penzeys Chili Con Carne spice. Simmer for another 30 minutes or so. Add the cayenne pepper, onion powder and additional salt if necessary. (This is the stage where you can adjust the seasonings to your own taste. This isn't like baking, so add whatever you want here.)
Once you have your chili seasoned just right, add the can of beans and the corn and just heat throughout. This can be served right away or put in a crockpot to stay warm for hours. It's even better heated and served the next day.
I usually set up a buffet style toppings bar with bowls of these toppings so everyone can add the toppings of their choice.
Toppings:
chopped onion
chopped jalapeno
fritos
oyster crackers
sour cream
grated cheese (I use Tillamook medium cheddar)
And if you really want a great frito pie, layer the bottom of the bowl with the fritos first, then chili, cheese, more fritos, and sour cream. Yummy! It doesn't get much better than that!
Okay, so this recipe probably doesn't qualify as one of our healthy, low fat recipes if we are topping with the cheese, fritos, and sour cream. But we can make an exception for the Super Bowl, right?

~LilSis