January 28, 2009
Oh yeah, I LOVE shoes! That's another fetish that we both share! I've had a teeny, tiny obsession with shoes for about as long as I can remember. Back in the "old days" when I wore a suit to the office every day, I used to buy more dressy pumps.  Since I work from home now, I'm a flip flop and sandals kind of gal!
I practically live in sandals! I rarely wear a closed toe shoe, even in the winter. I don't even own very many any more. They can really mess up a nice pedicure!
I hate to admit it, but probably 75% of the time, you will find me wearing these reliable, comfortable Roxy flip flops.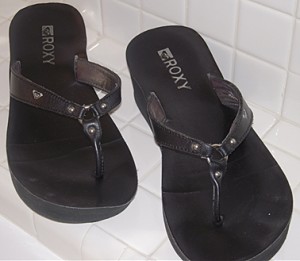 Here are a few more of my most favorite sandals! Can you tell I like wedges? The ones in the middle are Colin Stewart, from Victoria Secret that my bestest friend, K, gave me. And the ones on the ends are from Nine West.

I love these Dolce Vita wedge sandals that I found on sale at Nordstroms in Dallas.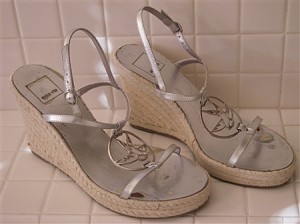 And I just happen to have a photo of me wearing these shoes.
I guess I always buy a new pair of shoes when I'm back home in Dallas. I found  these Franco Sarto sandals at Dillards.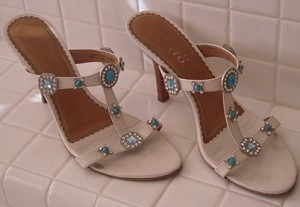 I also happen to have a picture of me in these shoes.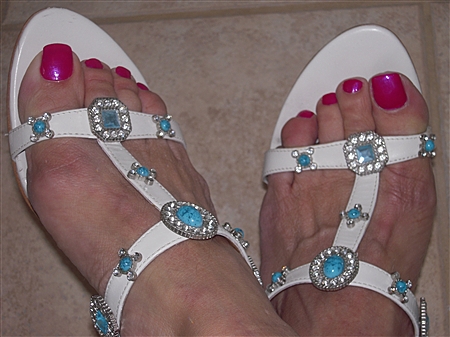 I've gotten so MUCH wear out of these Mia wedges. These have a strap that wraps around the ankle so they are really cute on.  I wish I had a photo of these on my feet.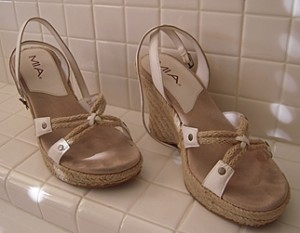 And I bought this pair of Born sandals at the mall in Vegas because my feet were killing me in my other sandals. This is actually my first pair of Born sandals and I love them. They are so comfortable!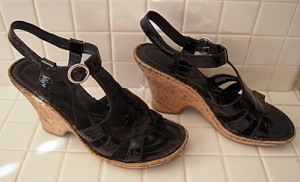 So, those are just several of my favorite sandals. That is probably more than anyone even cares to know about my sandal fetish, but you asked, BigSis, so there's your answer! If you get me started talking about shoes, it's almost as bad as talking about MAC eyeshadows! I just can't stop!

~LilSis