March 13, 2009

I wanted to be sure to get this post up today in case anyone is having their St. Patrick's Day celebration on Saturday. If you are hosting a party or just having a couple of friends over, these Reuben Sandwiches are easy and they're a real crowd pleaser.
I mentioned the recipe for these sandwiches a couple of days ago in my St. Patrick's Day Party Ideas post.  These are a little different since you bake them in the oven for a few minutes and serve them open faced.  If cut into smaller pieces, they made for excellent party appetizers.
I really love that you can put these together before the party. Whenever you're ready to serve, you just pop them in the oven for five minutes to melt the cheese.
In hindsight, I wish that I hadn't used Reduced Fat Swiss for this recipe. Full fat cheese probably would have gotten more browned and bubbly. I was trying to cut back a little bit on the fat considering the fat content in the mayo and the corned beef.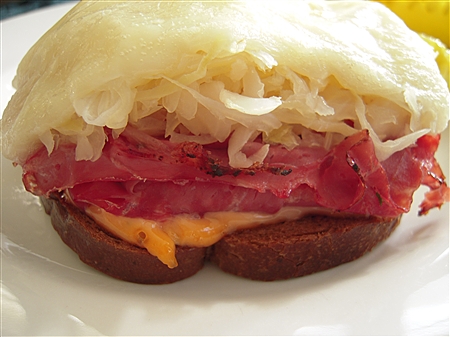 I've been thinking about these sandwiches so much that I decided not to wait until St. Patrick's Day to serve them. We're having them for dinner tonight!

~LilSis