March 27, 2009
Hey BigSis! I bet you wish you had some of BigT's homemade Pita Chips to go along with that hummus! I normally buy my pita chips from Trader Joe's but these were really good! I'll definitely be making this recipe myself!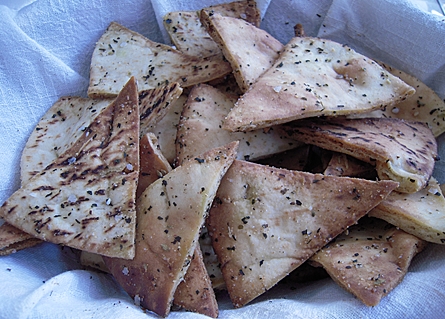 BigT just started the P90X Workout Regime a couple of weeks ago so he's being very disciplined with his meal planning. (If all goes according to plan, maybe we'll have him do a guest post in the near future about his progress.)
The last couple of mornings that I've been up at 5:30, the same fitness expert, Tony Horton, that does the P90X videos has a new program called The 10 Minute Trainer. I've actually gotten sucked into that infomercial! The guy is good! I'm actually considering getting the videos.
Healthy snacks are a part of the daily plan, so BigT decided to make a big batch of these pita chips to take to work. I'm not sure where the original recipe came from but he got it from his stepmom, C.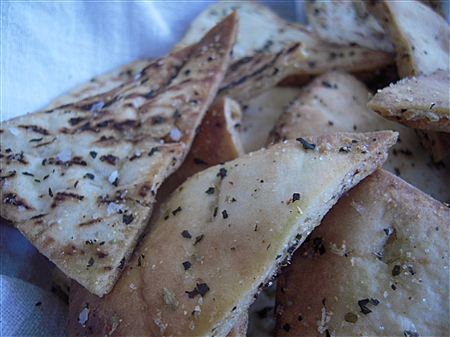 Pita Chips
1 T. Kosher Salt
1 T. Dried Basil
1 t. Garlic Powder
1 t. Onion Powder
1 t. Dried Oregano
1/2 t. Black Pepper
1/4 t. Celery Salt
1/2 c. Olive Oil
8 Pitas (he used Western Bakery Alternative Pita Bread)
Mix all spices and oil in a large bowl. Cut the pita bread into eighths. Toss the pita pieces into the spice & oil mixture, then place on a single layer onto two cookie sheets. Cook in a preheated 350 degree oven for 20 minutes.
When these were done, I was wishing that I had some of your Healthy Hummus to dip them in!

~LilSis