April 13, 2009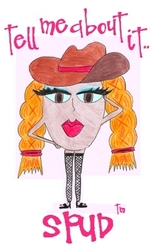 Anyone who knows us knows how much we love pink, so does it come as a surprise that our Potato Ho Down entry this month is a Pink Potatotini?
We served the Pink Potatotinis for Easter Sunday, and had tons of pink fun with them.  We started with our Make-Ahead Potato recipe, and just added a touch of red food coloring.  We then piped them into martini glasses, added a sprinkle of chives and a couple of olives. Viola!  Pink Potatotini!
Dlyn is the host for this month's Ho Down, so be sure to visit her site on April 15th to see all of the Potato Hos and their recipes!  Thanks for hosting, Dlyn!

~BigSis