May 22, 2009
In past years, I would normally cook a big ole Texas size brisket for our Memorial Day get together with family and friends. Most holidays are very different for us now since we're way out here in California while the rest of the family is either in Texas or Illinois.
Since living out here, we've definitely had to reinvent how we celebrate some holidays. This past year we've met some great people down at the Harbor, so this year for Memorial Day, we'll be attending a huge Kabob Party on our dock this Sunday. Everyone who participates will bring their favorite Kabobs to share.
I've gotta admit, though, I don't really have a favorite Kabob. I've made Kabobs on several occasions and I'm never that happy with how traditional kabobs turn out. I don't want to make the standard beef, peppers, tomato, and onion kabob because I've found that the meat and the veggies just don't cook at the same rate.  The meat is always done before the veggies, especially the peppers.  So, you either end up with dried out meat or hard vegetables. I know there are many marinades that probably help prevent the meat from drying out, but I'm trying to cook less beef anyway, so I'm not going that route.
I've done veggies on a separate skewer and am more happy with how that turns out except that if you add mushrooms and tomatoes, those are still done before peppers and onions.
So, I want to do something different. I'm thinking shrimp. Even though it isn't a traditional kabob, I've been wanting to make this Guy Fieri recipe, Bacon Wrapped Shrimp with Chipotle Barbeque Sauce that I saw in the February/March 2009 Food Network Magazine. These look pretty amazing to me.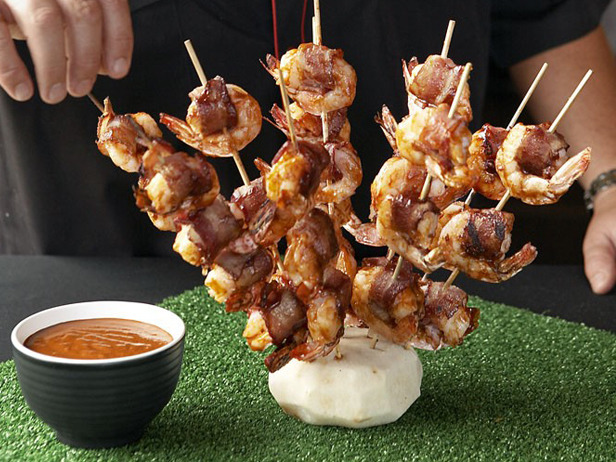 And one of my favorite "go to" cookbooks for anything to do with grilling is always "How To Grill" by Steven Raichlen. He has a fantastic Bacon Basil Shrimp on a Stick recipe that I'm also considering.
This Chicken and Bacon Shish Kabob recipe from All Recipes also sounds interesting because the chicken is wrapped in the bacon, which would probably keep it from drying out, plus there are no peppers.
I know the variations are endless with Kabobs. I would like to use shrimp or chicken instead of beef. I would REALLY love to hear from you if you have a favorite kabob recipe. Pretty please? 🙂

~LilSis