June 5, 2009
How can anyone resist the beautiful fresh fruit at the market these days? We are so fortunate to have a Trader Joe's nearby. We always have a great selection of fruit and the icing on the cake is that it's reasonably priced. We don't pay an arm and a leg for a small container of raspberries or blueberries.
I buy my berries at Trader Joe's every week, but most of the time no one helps me eat them, so I'm careful not to buy more than I can eat by myself. Since I'm trying to help SirHoney eat more fruit, I bought more on my last shopping trip so I could make a nice fruit salad.
When I got home, I decided to browse through Cooking Light's website for some ideas for a light fruit salad recipe. I was inspired by this Summertime Fruit Salad recipe, but I omitted so many things, it's really not even the same recipe anymore. If I were to make this fruit salad for a dessert, I would have included the simple syrup and the whipped cream topping which both include Chambord.
On this particular day, I was just making a nice fruit salad for breakfast, so I didn't want the sugar, cream or Chambord.  (It's basically just a big bowl of fruit, so I almost feel bad calling it a recipe.) Here's what I came up with.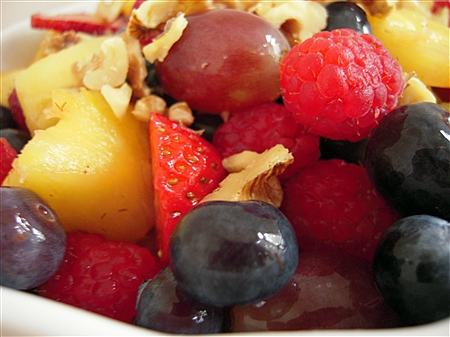 Summertime Fruit Salad
1 c. blueberries
1 c. sliced strawberries
1 c. red, purple & green grapes
1 c. diced pineapple
1 c. raspberries
1/4 c. chopped walnuts
Combine first four ingredients in a medium size bowl, then gently toss in the raspberries. Serve in individual bowls and top with the walnuts.
I really wanted to include blackberries in this fruit salad, but for some reason, the guys don't like them, so I left them out.  I did add blackberries to my serving and then poured it all on top of a bowl of nonfat vanilla yogurt and sprinkled with a few chopped walnuts. If serving immediately, I would also add some sliced banana.
I loved this fruit salad, and guess what, so did the guys! What an easy way to get them both to eat more fruit!

~LilSis