September 3, 2009
Last Friday was our friend and coworker MoJo JoJo's last day with us.  She moved back to her hometown to start her official awesome job as a CPA with a Master's degree.  You rock, MoJo JoJo!  You worked hard for that and you deserve an incredible career!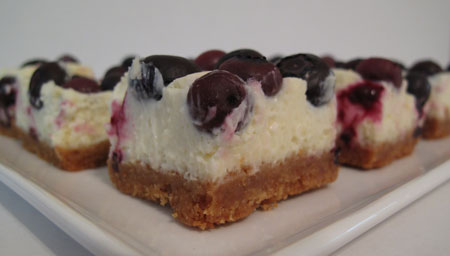 So, for her last (sad) day with us on the job, I made Tyler Florence's Lemon Blueberry Cheesecake Bars.  I've mentioned before that I need very little excuse to bake…full moon, Tuesday, whatever. When a friend leaves, you can bet I'm going to bake.  I've been wanting to try this recipe ever since I saw Tyler make it on his Tyler's Ultimate show on Food Network a long time ago.  These little dudes looked incredible, and have always stuck in my head.
My expectations were not too high.  These came out fabulous!  I loved them, and they disappeared pretty darn fast from the office.  So fast, in fact, that I didn't get a chance to photograph them and had to make another batch over the weekend.  Oh, darn!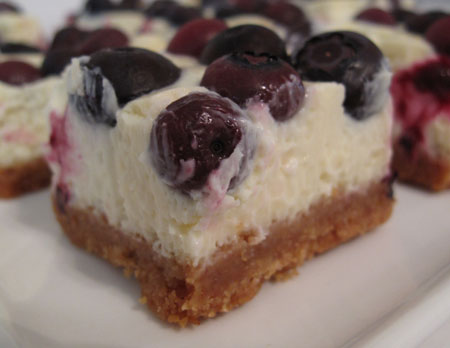 You can go to the Food Network site for Tyler's recipe for these scrumptious Lemon Blueberry Cheesecake Bars, but let me give you my notes.  A few people mentioned in the reviews that they thought the lemon flavor was too tart, or their bars didn't set up well, or that the crust didn't stay together.  After making these twice, I've discovered the solutions to all of these little issues.  These are the changes I recommend:
The recipe calls for 9 graham crackers.  I used 1-1/2 cups of crumbs and it was perfect.
Use 1/4 tsp of cinnamon instead of 1/8 tsp in the crust.
Use an extra 2 Tblsp of butter in the crust (6 Tblsp).
Use 1/4 cup of fresh lemon juice in the filling.  The recipe calls for the juice of 2 lemons, which we know can vary wildly.  The first time I made these, the juice of 2 small lemons yielded 1/4 cup.  That produced the perfect texture in the filling, and the blueberries didn't bleed into it at all.  The bars also cut beautifully.  The second time, I had medium size lemons so I used the juice of 3 halves, measuring about 1/3 cup.  Although I really liked the bit of extra lemon tang, the bars were a bit less firm, and the berries did bleed into the cheesecake somewhat.  The bars also cut a little less pretty.  All of the photos here are from the second batch, so you can see what I'm talking about.  So, 1/4 cup juice is the key!  And do use fresh juice for these!
Even if you use less juice, still use the zest of 2 lemons.  It's a real flavor booster and complements the blueberries beautifully.
Make sure your berries are completely dry after washing them.
I had a hard time telling when the bars were done, so I just stuck to the 35 minute baking time and they were on the money.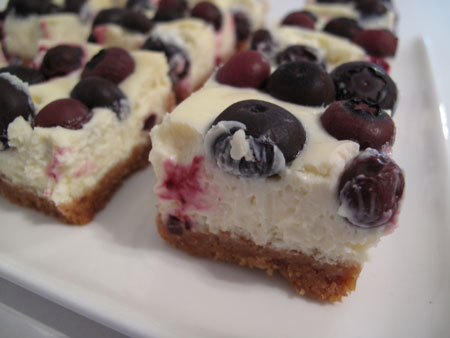 This is a SUPER easy recipe and I just adore it!  It's going into my permanent file, and I'll be making it regularly.  It's creamy and rich and luscious, but also fruity and tangy.  It's a winner!  I'm entering it into this week's Tyler Florence Fridays, so check it out.  They post a roundup each Friday of all the Tyler recipes submitted for the week, and one recipe gets to be on Tyler's blog.  Fun, huh?
Next time, I'm going to sprinkle a few raspberries in with the blueberries.  Try this one!  You'll lurve it!  (We miss you, MoJo JoJo!)

~BigSis