November 20, 2009
You're right, LilSis; I do have something to say about great body creams that don't give you a financial guilt attack!  I love everything about L'Occitane, but their shea butter products are a bit of a splurge.  There are times for splurging, but there are also times for being a little more frugal (like now).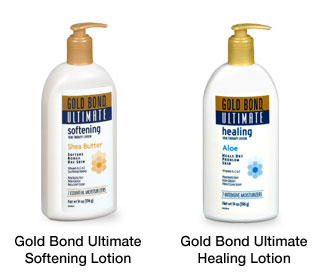 Let me give you the scoop on an AWESOME inexpensive cream that you can get at pretty much any drugstore or discount store.  It's Gold Bond Ultimate Cream.  I've tried both formulas: Ultimate Healing has aloe, and Ultimate Softening has shea butter among other ingredients.  My favorite is the shea butter formula since it's even richer.  You can get the cream in a pump bottle or in a tube.  I prefer it in the tube because it's SO ding dang thick and rich that it's hard to get all of it out of a bottle.
I love the Gold Bond cream year-round for arms, legs, feet and hands.  It's heavy-duty enough for winter dry skin, but it soaks in quickly and isn't greasy so it's great for summer too.
The bonus?  You can frequently find a coupon in the Sunday paper for $1 or $2 off this great cream.  It's a touch more expensive than Jergens or Vaseline Intensive Care, but I think it's much more effective.
But wait!  There's more!  I have an incredible foot cream for you too.  It's Burt's Bees Coconut Foot Creme.

Wowie!  This creme smells beyond scrumptious, and will moisturize your dry feet beyond belief.  This is an extremely thick creme; I would even say it's goopy.  Deliciously goopy!  If you need a thick creme to slather on your feet overnight, this is the one!  Rub it into your feet and cover with socks, and you'll wake up to super smooth soft tootsies!  Plus it's pretty cheap…only $9 retail.
When I think of this coconut creme, I always remember how I used to rub it on HayHay's Fred Flintstone feet when he was a little guy.  That may embarrass him, but it's a happy little memory for me.

There you have it, LilSis, my favorite inexpensive but uber-effective creams that will obliterate your dry winter skin!

~BigSis