January 23, 2010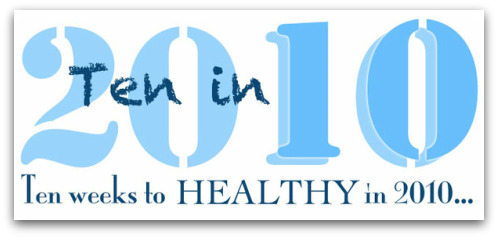 Week three in the Ten in 10 Challenge was a good week for me. I feel good; and basically that's what this challenge is all about; making 2010 a healthy and happy year. Here are a few things I learned this past week.
Before this challenge started, I had a pretty good workout routine, but never had it in writing. Some days I would walk and some days I would go to the gym, but always at different times of the day; whenever I could squeeze it in. Now, I've discovered that I really like having my weekly exercise plan written down. I know what I'm doing that morning and I know what time I'm doing it. And, it was pretty easy to stick to it. I just had to organize my work schedule around my exercise schedule. (Luckily, I'm able to do that right now.)
It's really interesting to try different yoga classes and experience different instructors' styles. In my class at the Y on Monday, the instructor taught us how to incorporate the use of a tall rattan pole into our practice. Last week, he used straps. Not knowing what to expect in his class makes it more fun! Then on Friday, I was a little disappointed when I saw a sub come into the classroom. I was thinking to myself, is she going to be any good? (Be careful what you think to yourself.) I could barely keep up! She was harder and faster than our normal instructor. I thoroughly got my fanny kicked that day!
I'm really happy about getting back into the routine of making my meal plan for the week, writing it down and doing all the shopping on Sunday. It's made life a little less hectic when it comes time for dinner. And, I really like keeping my food log. I wasn't sure if I could stick to it, but this little fitbook is really making it fun and easy to do. I love being able to give myself a happy face when I've had a healthy meal.
My family really loves brussel sprouts! I've tried a different recipe each week and they love them! Yay! Another green veggie to add to our weekly menu. I had a little obsession about having to eat something green with every meal.
I finally found a White Turkey Chili Recipe that my guys love. I'll share the recipe with you later this week.
I actually can survive on the "no beer during the week" rule.
I feel like I lost at least a pound this week, but chose not to get on the scale yesterday. I know myself well enough to know that during this time of the month, the scale is usually up three pounds. (Sorry if that's too much info.) I didn't want to get discouraged, so I'll get back on the silly scale next Friday.
I've tried really hard to keep negativity away from me this week. I had a little unwanted drama try to creep in this week, but I finally had to set a boundary and tell that person that I can't talk to them right now. I have to surround myself with positive people and positive energy this year. We've got a lot of changes going on with our business and I'm  trying to launch something new which is requiring a lot of time learning some things outside of my comfort zone. In order to be as productive as possible, I've decided that I just don't have time for negative people in my life.
I hope everyone had a happy, successful week! I'm looking forward to week four and to reading all the updates from other participants. Even if you aren't doing a weekly update on your blog, I'd love to hear from you. So, leave me a comment and let me know about your week!

~LilSis