January 26, 2010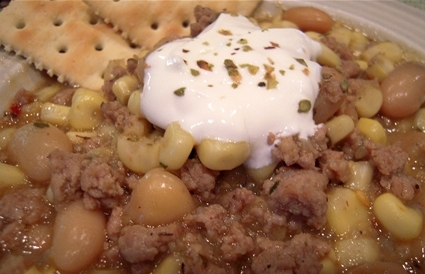 When there's a little chill in the air at night, there's nothing quite like a hot bowl of chili.  It's one of my favorite meals to cook, whether for just the three of us or for a house full of friends or family.
Normally, I would make my own chili recipe and serve it with a bunch of grated cheddar, Fritos, and sour cream, but since we're trying to eat healthier this year, I decided to make a white turkey chili and eliminate the Fritos and cheddar cheese.
I've only made turkey chili a few times and the guys never liked it but I was still determined to keep looking until I found a good recipe. Last week, I decided to try this White Turkey Chili recipe from Ellie Krieger that I found online at Food Network. It's a healthy, quick and easy recipe and everyone loved it! What more can you ask for?
I did make a few changes for various reasons. I didn't have hominy on hand, so I used corn instead, I substituted crushed red pepper flakes for the poblano peppers, tripled the garlic and eliminated the celery. I also tweaked the seasoning a little bit to suit our taste, but that's it.
White Turkey Chili
(adapted from Ellie Krieger online at Food Network)
1 T. canola oil
1 medium onion, diced
1/2 t. crushed red pepper flakes
3 cloves garlic, minced
1 t. ground cumin
1/2 t. ground coriander
1/2 t. cayenne pepper, plus more to taste
1 pound ground white meat turkey
(2) 15.5 ounce cans low sodium cannelini beans, drained & rinsed
4 c. low-sodium chicken broth
3/4 t. dried oregano
1 15 ounce can sweet white corn, drained
1 – 2 t. low sodium Spike
1 t. Penzeys Shallot Pepper
1/2  t. salt
reduced-fat sour cream
Heat the oil in large pot or Dutch oven over medium heat. Add the onion and crushed red pepper flakes, stirring occasionally for about 8 minutes. Add the garlic, cumin, coriander, and 1/4 t. of the cayenne and cook, stirring, until fragrant, about 30 seconds.
Add the ground turkey and cook, breaking up the meat with a spoon, until the meat is no longer pink, about 2 minutes. Add the white beans, broth, and oregano. Cook, partially covered and stirring occasionally for about 25 minutes.
Add the corn, and seasonings to taste and continue cooking, partially covered for 10 minutes or longer. Ladle into individual bowls and top with 1 tablespoon of sour cream and a sprinkle of oregano.
As Ellie says, "It's a breeze to make, satisfying to eat, and the variations are only limited by your imagination."

~LilSis