February 28, 2010
I know LilSis and lots of the other Ten in 2010 participants have started off the new year with a new motivation, increased fitness and weight loss.  Not me though, I've been doing good to just maintain with my 5 gym workouts a week.  Since my priority the last several weeks has been to spend as much time as possible with Bry, I wasn't getting in any additional workouts, which is perfectly fine. My priorities were clear to me.
But now that he's off on his Navy adventure, it's time for me to recommit to getting back into fighting shape.  I never know when I might have an unexpected scuffle with an ornery chick in the parking lot before work!  Yeah, there's a story there, but I'll save that for another day.
The truth is, a forty-plus body wants to get fat.  You have lower metabolism, more aches and pains, less energy, and wacked out hormones.  At least, that's the state of the union in my world.  It takes more and more work to achieve results, and it's very easy to get stuck on plateaus.  Plus, doing the same old stuff starts to lose its effectiveness.
All of that is no excuse though, and I'm not making any.  I don't have a ton of weight to lose, but I do want to build some more muscle and lose those ding dang blobs of fat that insist on congregating and loitering on my rear view.  You know the ones I mean.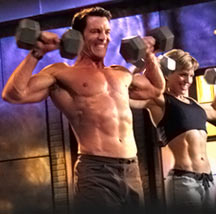 I had planned to go back to Jillian Michaels' 30-Day Shred, since she whipped me into decent shape last year with her program.  I'd been rotating the 30-Day Shred with a couple of her other heinie-kicking DVDs, and they really did work.
Bry and his dad have been big fans of P90X though, and Bry said I should give it a try, and swears I can do it.  Really?  Ok.  If you say so, Bry.  I know you care about your old aunt and you wouldn't tell me that if you thought it would be the death of me.
I love a challenge, and with my all-or-nothing personality, P90X is right up my alley, at least theoretically.  One of the things that intrigues me about it is the idea of "Muscle Confusion", which is said to bring greater results to your bored muscles.  So today, I'm going to do the fitness test to see if I'm up for the P90X challenge.  If not, I'll do the 30-Day Shred for a couple of weeks, and then test again.  If I pass the test, I'm off and running.
I just have one question before I start…will P90X kill a forty-plus woman?  Do you know of any women who have done it and survived; other than Sheryl Crow and Pink?

~BigSis