June 1, 2010
Hope everyone had a relaxing, enjoyable Memorial Day weekend!
We had beautiful weather all weekend so we spent the majority of our time outside. We love being out in the sun but are never without our sunscreen. Here in California, we have to wear sunscreen year round and since HayHay surfs just about every day and SirHoney has a long history of skin cancer, we are always on the lookout for the best of the best when it comes to sunscreen.
One of my friends was just telling me about this recent article in Consumer Reports Magazine where they run down their top Top Four Sunscreens.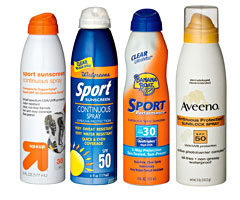 They tested twelve products and found four to be slightly better than the rest. The top four include Up & Up's Sport Continuous SPF 30, Walgreens' Sport Continuous SPF 50, Banana Boat's Sport Performance Continuous SPF 30, and Aveeno's Continuous Protection SPF 50.
I've been pretty loyal to my Neutrogena sunscreen sprays, but maybe it's time for a change.
I've never even heard of Up & Up but I will definitely be giving that one a try, as well as the Walgreens' Sport since they made the top two.  My guys have tried the Banana Boat Sport and they didn't like it because it ran into their eyes.
We still use these types of sprays for the rest of the body, but we've finally found the perfect sunblock for HayHay's face that's made by Vertra that doesn't sting or run into his eyes while surfing or golfing for hours. I'll be talking more about that product in an upcoming post.
Later this week, BigSis and I will be doing our own rundown of our Top Ten favorite essential Summer products.

~LilSis