June 10, 2010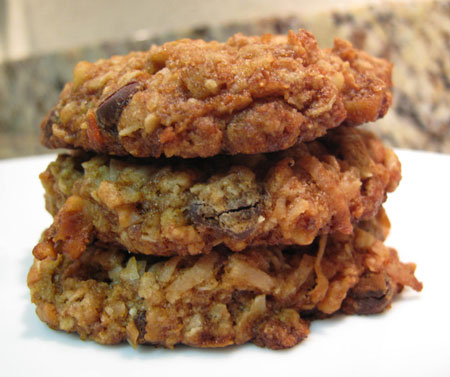 Since our next SPCA Bake Sale is only 6 months away, I better get myself busy building a repertoire of vegan recipes!  I'm almost 6 months into "eating vegan", but I'm not a big sweets eater so I haven't done much baking.
After my coworker K-to-the-T brought these awesome Chocolate Chunk Oatmeal Coconut Cookies to the office the other day though, I knew this was a recipe I had to adapt asap!  They were scrumptious, and reminded me of a Cowboy Cookie I used to make.  She had made a few tweaks of her own to the original Epicurious recipe, and I tweaked it even more.  Voila and ta da!  Here's my first adapted cookie recipe, sans eggs and dairy products!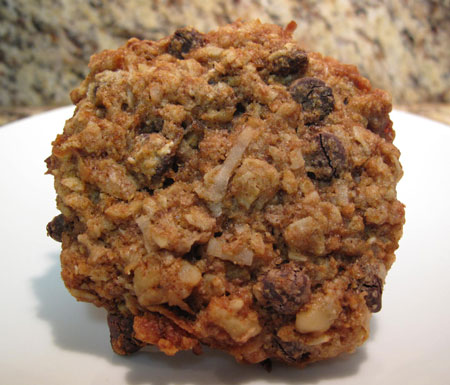 Oatmeal Coconut Chocolate Chip Vegan Cookies
Adapted from K-to-the-T and Epicurious
1 stick (1/2 cup) Earth Balance, softened
1/2 cup packed light brown sugar
2 tablespoons granulated sugar
1 teaspoon vanilla
1/4 cup unsweetened applesauce
1/2 teaspoon baking soda
1/4 teaspoon baking powder
1/2 teaspoon cinnamon
1/2 tablespoon ground flax seeds
1/4 teaspoon salt
1/2 cup whole wheat pastry flour
1 cup + 2 tablespoons old-fashioned oats
3/4 cup sweetened flaked coconut
1/2 cup semisweet vegan chocolate chips
1/2 cup walnuts, toasted and chopped
Preheat oven to 350°F.
Beat together Earth Balance and sugars in a bowl with an electric mixer at high speed until fluffy. Add applesauce and vanilla, and mix until blended. In a separate medium bowl, combine flour, baking soda, baking powder, flax seed, cinnamon, and salt. Stir to mix ingredients. Add dry ingredients to wet ingredients and mix at low speed until just blended. Stir in oats, coconut, chocolate chips, and walnuts.
Arrange 1/4-cup mounds of cookie dough about 3 inches apart on 2 ungreased large baking sheets (about 6 cookies per sheet), then gently pat down each mound to about 1/2 inch thick. Bake until golden, about 14 to 15 minutes.
Cool cookies on sheets until set enough to transfer with a spatula to racks to cool completely. Makes about 12 big cookies.
Note: The bottoms of my cookies were pretty brown. I think that using parchment paper might help with that if you prefer lighter bottoms.
My cookies had a slightly different texture than K-to-the-T's, but they were absolutely delicious!  I never would have guessed that they were vegan.  They were moist and chewy, and had great flavor.  I will absolutely make them again…and yes, they may make an appearance at the Bake Sale!

~BigSis