August 10, 2010
Last month I shared the Funfetti Firecracker Cupcake recipe with you for a fun way to turn cupcakes into little firecrackers. Here's another way you can use those little exploding candies, Pop Rocks to liven up your next summer party. I made these fun cocktails for the 4th of July but they would also be very festive for a Labor Day party.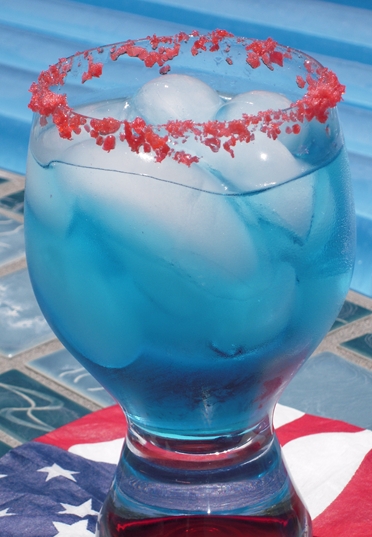 On the "Rocks"
(adapted from Food Network Magazine July/August 2010)
Juice from half a lemon
Strawberry (red) Pop Rocks
1 part vodka
2 parts juice or mixer (I used Rose's Blue Raspberry Mix)
1 part seltzer water or club soda
Pound the Pop Rocks packet before opening to crush the candies into smaller granules, then pour them out onto a plate. Next, just dampen the rims of the glasses with lemon juice and dip the rims in the candies.
So you don't disturb the candies on the rim, just mix the vodka and juice, or mixer, in a shaker first and then pour over ice and add a splash of seltzer or club soda. Serve immediately as the Pop Rocks will start popping as soon as you put them on the rim.
Note: These also turn out really pretty using cranberry or pomegranate juice with the Tropical Punch (blue) Pop Rocks. (As pictured in Food Network Magazine.)
To make these for the kiddos, just eliminate the alcohol and use any color juice and Pop Rocks. These are so easy, it would even be fun to let the kids help make their own. 🙂

~LilSis