October 22, 2010
It seems like my weekend shopping trips are lots more challenging these days since I can't just breeze through Target and mindlessly grab my usual products.  Making a commitment to purge animal-tested products from my life has been a real project, but I'm committed to it, as LilSis is also.
I've had a longtime love affair with my Swiffer WetJet since the day I laid eyes on it, but alas, Swiffer is a Procter & Gamble company.  Procter & Gamble does animal testing, so Swiffer is out of my house, which made me sad at first.  I envisioned returning to a drippy string mop or sponge mop with a big steaming sloshing bucket full of Pine Sol.  Gah!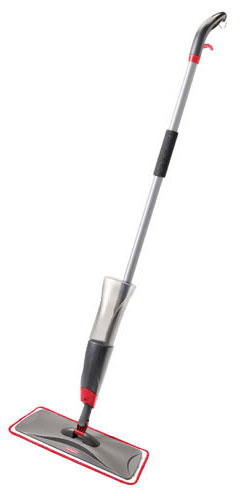 Thankfully, there are other alternatives, and I found a nifty one. I bought a Rubbermaid Reveal Microfiber Spray Mop
during my last trip to Target.  How much do I love it?  Let me count the ways:
As far as I can see, Rubbermaid doesn't do any animal testing.  If I'm wrong, someone please correct me!
There are no expensive disposable pads to buy.  The Reveal Mop comes with a microfiber pad that is washable!  Brilliant!  You can buy replacement pads if you ever need to.
You can use any cleaning solution you wish!  Brilliant again!  Not only are you free of the pricey Swiffer solution, but you can use a completely environmentally-friendly, green solution!  Use plain water, or water with white vinegar, or buy a natural cleanser from Method, Mrs. Meyers, or Caldrea.  You choose.
Another cool thing?  You can buy extra refillable spray bottles so you can switch out your solutions for different surfaces: tile, wood, vinyl, or laminate.
Even though I imagined the worst (stringy ol' yarn mop), what I ended up with is better in many ways than my old Swiffer!
Before you even think about mopping though, you need freshly-swept floors right?  This is the perfect time to introduce you to my new electric broom; the Electrolux ErgoRapido Bagless Cordless Handheld/Stick Vacuum Cleaner
.

My last electric broom lasted for probably 10 years, but it finally got weary of sucking up all that cat litter and hair, and it just passed away.  After a ton of research, I decided on the ErgoRapido
and I'm so thrilled with it:
It works well and has good suction.  It will occasionally take two passes to pick up some of the fine bits of clumping cat litter, but I think that material is a real challenge for any sweeper.
It's lightweight, cordless and rechargeable.
There are no bags, and the canister is easy to empty.
It's a stick vacuum cleaner AND a handheld vacuum all in one.
So with both of these tools in my cleaning closet, there's no excuse for a dirty floor, right?  Now, all I have to do is teach my furkids to sweep and mop while I'm at work, and we're all set!

~BigSis