December 15, 2010
Only days away til Christmas!
Everyone ready?

Here's the official countdown to Christmas clock in case you care to know exactly how many days, hours, minutes, and seconds til Christmas!

Christmas cards addressed & mailed?
Shopping done?
Gifts wrapped and shipped?
Baking planned?

(If your answer is no to any of the above, don't worry; you're not alone. I have to admit that no matter how hard I've tried, I'm still a little behind.)
My top priority right now is to finish up the shopping for out of town gifts so I can get those in the mail ASAP. (I've been so late a couple of times that I've had to pay an outrageous price for 2 day UPS shipping and I refuse to let that happen again.)
Last week I talked about Holiday planning and how it's an absolute necessity for me to have a plan and make lists of all those extra things we have to do during this Holiday Season. BigSis is also a huge list maker and she recently shared her Top 4 Tips on planning and getting organized for Christmas, which can help you get started if you're still struggling with how to get everything done.
If you're planning a cookie exchange or making treats for neighbors, which I usually do, you may find this helpful. I was recently reading How to Simplify and Jen mentioned this wonderful FREE printable eBook, Holiday Treats Your Way, which was put together by Mandi from Life…Your Way.
This fantastic ebook is filled with Tips and Tricks on how to plan your Christmas baking and has pages on how to organize a successful Holiday Cookie Swap. The book features tips and recipes from more than 15 Bloggers and contains recipes for cookies, candies, and nuts.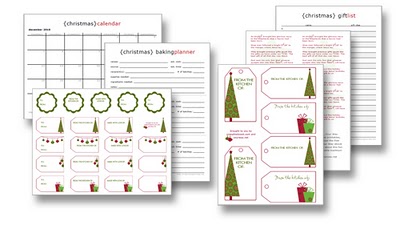 The book even includes adorable gift tags that you can print to attach to all your goodies!


~LilSis