December 31, 2010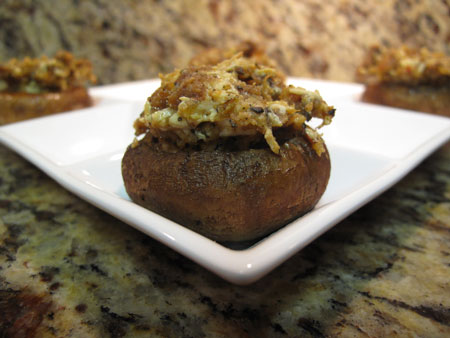 Happy new year!  LilSis and I love making appetizers, and there is no better opportunity for snack-crafting than New Years Eve and New Years Day!  My old Stuffed Mushrooms Italian recipe is a family favorite, and everyone loves it.  However, it's stuffed with meat and cheese so I haven't made it since I stopped eating critters almost 17 years ago.  It's time to veganize this baby!
This is a pretty easy recipe to veganize; I just substituted Tofutti cream cheese for dairy cream cheese, and sausage-style seitan for the pork sausage.  I think it came out pretty well, but I want to keep tweaking this recipe to see if I can elevate it from "delicious" to "ding dang awesome"!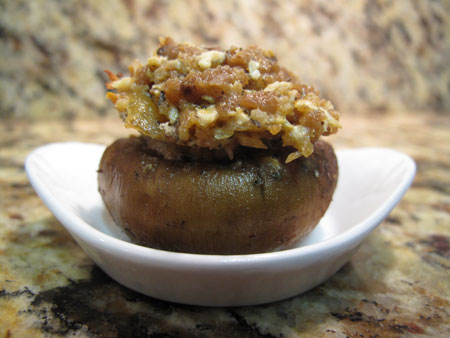 Stuffed Mushrooms Italian Veganized
1 small shallot, minced
1 pkg Upton Naturals Italian Sausage Style Seitan
1/4 cup breadcrumbs (I used Panko)
1/2 cup Daiya Mozzarella
4 ounces Tofutti Cream Cheese (1/2 tub)
Olive oil
Seasonings to taste: Italian Seasoning, salt, pepper, Frank's Red Hot Sauce, garlic powder
18 to 24 large mushrooms (depending on their size)
Preheat oven to 350 degrees.
Saute shallot in a small amount of olive oil until softened.  Add seitan and sautee over medium low heat just until heated through; breaking it up with a fork.  When hot, add in the cream cheese and combine well.  Add the Daiya, breadcrumbs and seasonings.  Set aside while you prep the mushrooms.
Wipe mushrooms clean with a damp paper towel.  Rub with a bit of olive oil to keep them from drying out during baking.  Stuff with a generous amount of filling and bake until hot throughout.
Notes:
I think I could reduce the amount of breadcrumbs, and perhaps eliminate them altogether since the dairy-free cheeses might bind the mixture together just fine.
The filling is nice and creamy before it's baked, but the dairy-free cheeses tend to break down a bit and get less creamy as they're baked.  I'd like to try pre-cooking the mushrooms on the stove top or in the oven, and then add the filling so it cooks for less time.  I definitely want the mushrooms to be completely cooked since raw mushrooms have been found to be carcinogenic.
This basic recipe is very customizable.  I can see adding chopped artichokes and black olives to the sausage for a tasty variation.
Happy new year, everyone!  Don't forget to have your blackeyed peas for luck and greens for prosperity.  Add a steamy pan of fresh cornbread and these mushrooms, and you have a delicous start to 2011!

~BigSis