February 5, 2011
You don't want to spend all day Sunday preparing for your Super Bowl party, do ya?  Me neither!
I already talked about vegan Bob Armstrong dip, which is now my go-to football snack.  What else could could I serve along with Bob, without spending a bunch of time or money?
I was noodling around some ideas, and I found this recipe for a Ranch Cheese Ball.  I thought it would be really cool to start with one basic cheesy spread recipe, and then use it in a bunch of different quick ways on Super Bowl Sunday!  Let's do it!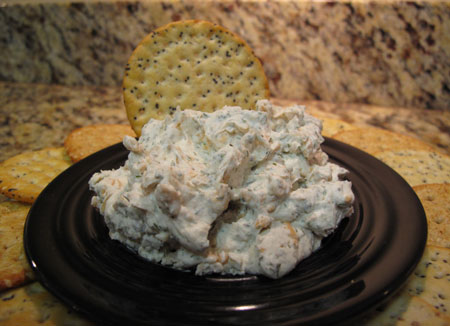 The basic cheese spread can be customized with your favorite flavors.  I started with a tub of Tofutti Cream Cheese, a handful (around 1/2 cup) of Daiya Cheddar and a touch of Veganaise to thin it out a bit.  Then I added garlic powder, onion powder, dried onion, dill weed, pepper and Beau Monde seasoning.  You add what you like: hot sauce, olives, cumin, lemon pepper, whatever.  Allow the spread to chill in the fridge for a couple of hours to marry all the flavors.
Now, here's where it gets fun.  Take that spread and go crazy!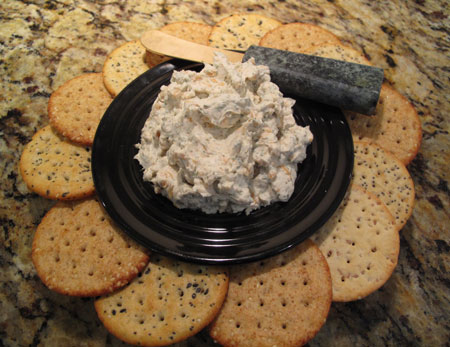 Serve the spread at room temperature with crackers
Heat the spread up (nuking is fine) and serve with crackers or toasted bread rounds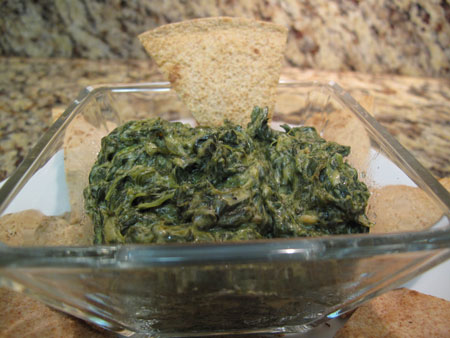 Create a healthier spinach dip.  Thaw frozen chopped spinach or use leftover sauteed spinach if you have it.  Squeeze it as dry as you can.  Mix it with an equal amount of cheese spread and a few good dashes of hot sauce.  Bake at 350 degrees until hot throughout.  Serve with toasted pita or tortilla triangles.  I like to cut up whole wheat tortillas and bake them until they're crispy.  A little spritz of cooking spray on both sides help crisp them up with almost no added fat.  I don't think you even need to salt them, but it's fun to sprinkle on salt-free spices before they bake.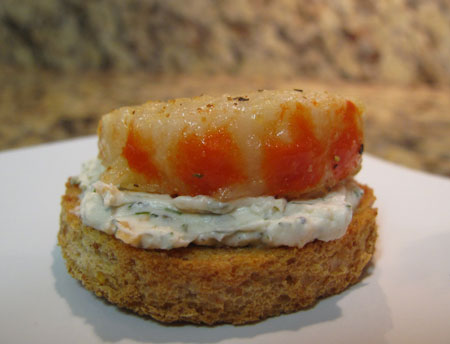 Make vegan shrimp toast.  Have you tried this Vegan Shrimp product from Vegetarian Plus?  I hadn't before, but they were a fun little experiment!  There are about 22 shrimp in a package, and the entire box is 280 calories and 8 grams of fat, but no protein.  To me, the texture is very shrimpy!  They don't have a fishy flavor as I expected, but instead they pretty much take on the flavors you add to it, kind of like mushrooms do, so season these guys up.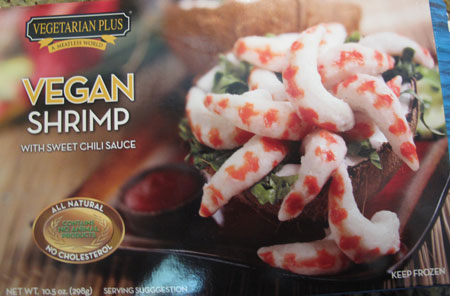 For your toast, saute the thawed shrimp in a pan with a touch of olive oil over medium heat for about 4 or 5 minutes, just until heated through.  I added lemon pepper and garlic salt while they were warming.  Kind of cute, aren't they?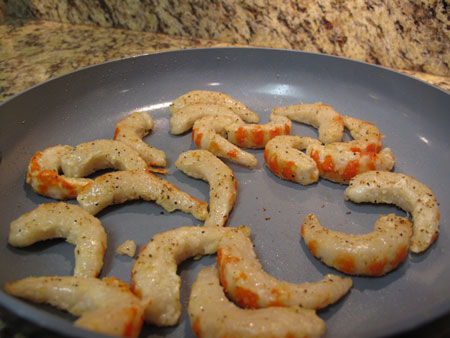 You could use crackers, but I like toasted whole grain bread as a base for the shrimp toasts.  Just brush the bread rounds with a bit of olive oil and bake until golden.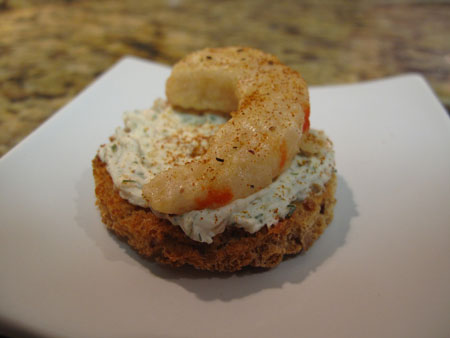 Add a smear of your cheese spread to the toast, and top with a warm shrimp and a sprinkle of paprika.  Ta da!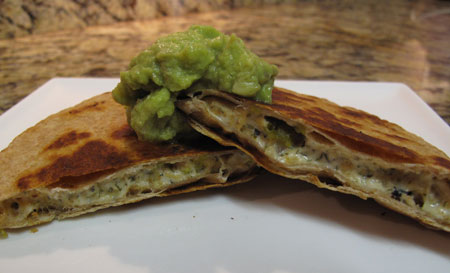 Toast up cheesy shrimp quesadillas.  Do you still have shrimp and cheese spread left?  Use it all up with this dish.  Roughly chop your shrimp and add to the cheese spread, along with some Daiya Cheddar and/or Mozzarella.  Don't worry about quantities; just add these ingredients to your taste.
I'm a spicy Texas girl, so I have to add peppers too.  I have a stash of roasted Hatch chilis in my freezer, so I thawed out one of those little babies, chopped him up very finely since he's a hot little bugger, and mixed him into the shrimp/cheese concoction.  You could use mild canned green chilis if you wish, and you could also add onions.
Spread a generous layer of the mixture onto one side of a tortilla (I like whole wheat), and fold over.  Cook in a little olive oil or vegan butter on medium low heat until toasty on both sides.  Make sure your heat is low enough to heat the filling throughout without burning the tortillas.
Cut into halves or quarters and serve with your choice of guacamole, sour cream, or salsa.
There you have it…one easy cheesy spread that very quickly becomes a variety of savory snacks.  If you're going to have a crowd or you're going to do several of these options, be sure to double, triple or quadruple the basic recipe.  Above all, have fun!

~BigSis