February 9, 2011
If you happen to be looking for a fun, festive cocktail to surprise your Valentine with next Monday for Valentine's Day, then you've come to the right place! This Be Mine Martini is so simple that you can whip up for your Sweetheart in just a matter of minutes.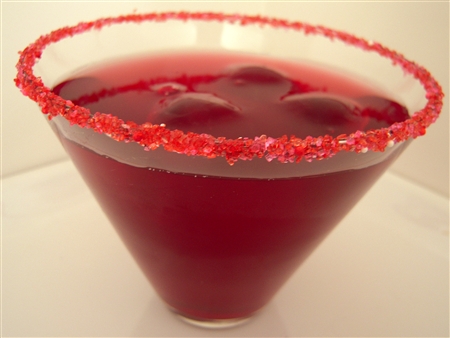 If you've been reading BigSisLilSis for awhile, you know that I LOVE making festive cocktails for special occasions or holidays. If you're new here, you can go to the related posts at the bottom of this post if you'd like to see some of the fun cocktails that I've concocted in the past.
So, let's get started. This is all you need.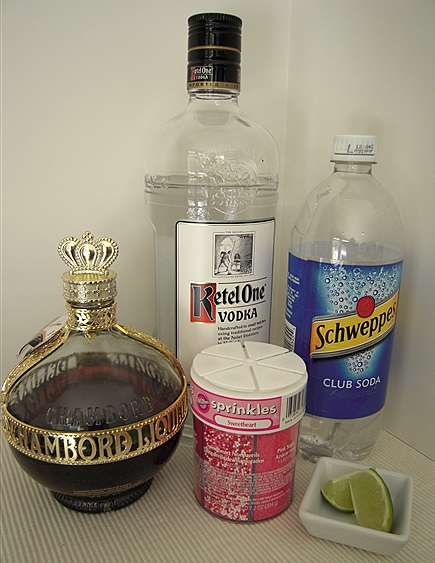 And, we can't forget about the red heart-shaped ice cubes. I made mine with 100% Cranberry juice for a deep red color.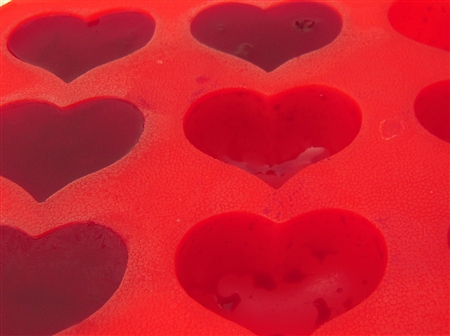 Be Mine Martini
Slice of lime
red & pink sugar
2 oz. vodka (My favorite is Ketel One)
6 oz. club soda or seltzer water
red heart-shaped ice cubes
Chambord Liqueur
Coat the rim of the glass with lime juice, then turn glass upside down into plate of mixed red and pink sugar. You can put the vodka in a shaker with some ice and shake before straining into the glass if you prefer, but if the vodka is kept in the freezer, it's not necessary.
Pour the chilled vodka in the glass and add the club soda or seltzer water. Drizzle a small amount of Chambord on top and lastly, add in 3 or 4 heart-shaped ice cubes.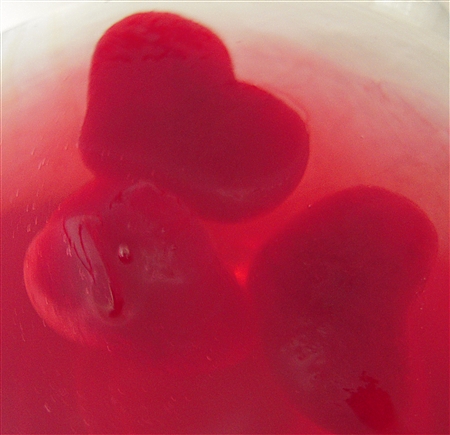 (Note: this was a large martini glass, so if yours doesn't hold 8 ounces, just use 1 part vodka to 3 parts soda or seltzer.)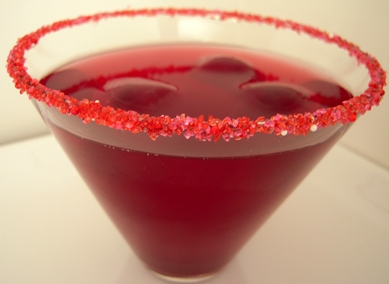 We don't go out for a big fancy, expensive dinner to celebrate Valentine's Day and I'm not one who expects a dozen red roses or a box of chocolates either. We like to exchange cards, enjoy a nice, relaxing dinner at home, maybe with a fire in the fireplace, some good music, and a fun, festive cocktail.
That's my idea of a perfect Valentine's Day!  🙂

~LilSis