February 20, 2011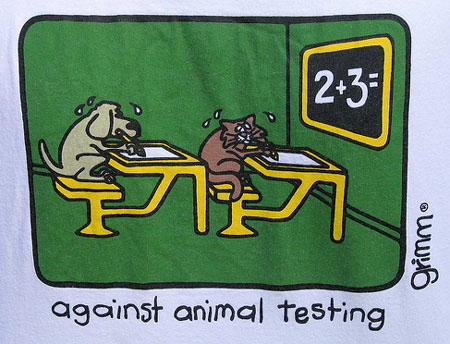 Back in July, LilSis and I made a commitment to ourselves and to the animals in testing labs that we would eliminate animal-tested products from our worlds.  We've had some easy instant successes and some challenges.
I talked about one of the biggest challenges in my first shopping update in September.  The problem?  Paper products!
I dare say most of us are UBER picky about the toilet tissue, paper towels and napkins that we buy.  I certainly am. I was completely loyal to Charmin toilet tissue, Puffs tissues, Viva paper towels and Bounty napkins…all animal tested.  Viva is a Kimberly-Clark brand, while Charmin, Puffs, and Bounty are part of the Procter & Gamble empire.
I first tried paper products from Seventh Generation; a brand that I really love because of their dedication to green cruelty-free products.  On a side note, their Free & Clear Natural 2X Concentrated Laundry Liquid is actually less expensive than Tide and is just as effective, in my opinion.  Plus it is non-toxic, biodegradable,  and is free of phosphates.
I also love their Automatic Dishwasher Gel.  I tried another natural dishwasher gel that did a horrible job.  Even after thoroughly rinsing dirty dishes, they still didn't come clean with that product. Seventh Generation's gel is just as effective as the animal-tested, chemical-filled products I used to use.
Now back to the paper problem.  I'm sorry to say that I didn't fall in love with Seventh Generation's line of paper goods.  I wanted to!  I really, really wanted to.  They were just a bit too natural, if you know what I mean.  I tried a few other natural brands and Whole Foods' store brand, and had the same experience with them.  For me, they were just a little too rough and scratchy, and didn't have the strength I was looking for.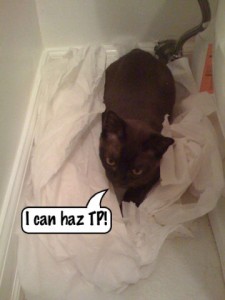 Never fear though!  I have a solution that I'm happy about, and it comes from an unexpected source.  Did you know that Safeway products are not animal-tested?  I didn't until I found that bit of news on PETA's Caring Consumers site.
To my happy surprise, Safeway paper products are pretty good, and I'm now purchasing them regularly instead of experimenting with other brands.
In Texas, Safeway products are the store brand for Tom Thumb stores.  In other states, you may find them at Von's, Genuardi's, Carrs, Casa Ley, Dominick's, Pak'n'Save, Randall's, Pavilions, and Safeway stores.
If you don't have one of these stores in your area, you might try the store brands for Trader Joe's and Food Lion, since they are not animal-tested either.  I don't have access to those stores, so I can't vouch for their paper goods, but if you do, please let me know how it goes.
The bottom line for me…if I can find a more-than-ok replacement for Charmin, then this endeavor is totally doable.  Safeway is obviously not a vegan company, and they don't have the same focus and natural-dedication as Seventh Generation and some other companies like Method.  But they do make a lot of products that give us options, and allow us to enjoy quality products without supporting animal testers like Procter & Gamble.
I just noticed that Safeway makes a duster refill that fits the Swiffer duster handle!  Swiffer is another Procter & Gamble product, so I was dreading the day that my last box of duster refills was depleted.  Worry no more, me!  Safeway to the rescue!
Animal Testing photo credit: AlBakker's Flickr photostream
I can haz TP photo credit: ixmati's Flickr photostream

~BigSis