March 12, 2011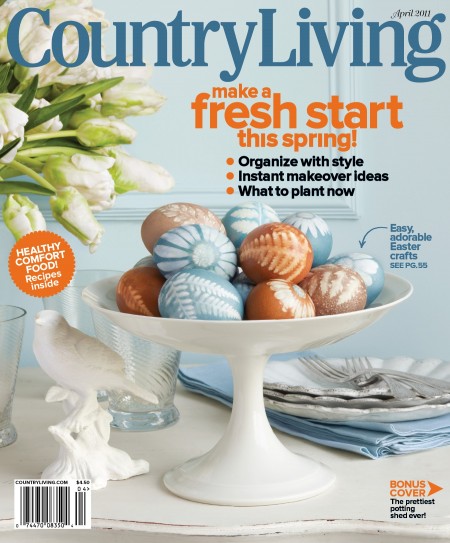 Do the eggs on the Country Living Magazine's April, 2011 cover look familiar?
Do you remember this Natural Dye Colored Easter Egg post that I did for Easter last year?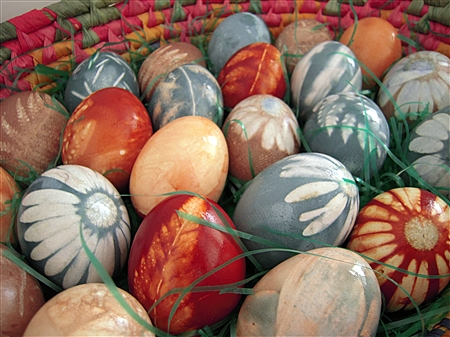 Now that the April issue of Country Living Magazine is officially on the newsstand, we can finally announce this exciting news!
We were contacted by an Editor from Country Living Magazine back in January to see if I would be interested in recreating this Natural Dye Colored Egg Project for the April issue of their magazine. And, of course, I said yes! 🙂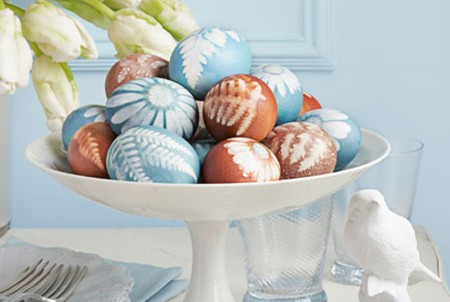 It's true; the eggs beautifully displayed on this pedestal were made by me, in my kitchen in Southern California, and were carefully packaged and shipped overnight to County Living in New York City for their photo shoot!
The Editor had originally planned on the project being featured in the craft section of the magazine, but we were thrilled when we received the news that the Editors decided to feature the project on the cover. And the project is also featured on their website in the 10 Adorable Easter Craft Projects section.
If you've come to our site after reading about us in Country Living Magazine, we would like to extend a HUGE welcome to you!
If you like this project, we want to encourage you to Subscribe to our Feed and Like us on Facebook. We have plans to share more craft projects here on our site, as well as continue with our recipes, beauty product reviews and tips we discover that help us in our quest to live a fit, healthy and responsible lifestyle that's still fun!
We don't claim to be experts in any one thing, but what we do know is what women care about and like to talk about.  That's what we love to share with you here on BigSisLilSis.
To celebrate this project making the cover of Country Living Magazine and to welcome our new readers, we decided to give away a Country Living book. And since the Editor at Country Living was so kind to donate FOUR books to us, we'll be having a Country Living Book Giveaway each week for the next four weeks.

To kick-start this series of giveaways, the first book we'll be giving away to one lucky reader is this gorgeous book!
Restore. Recycle. Repurpose. Create a Beautiful Home
(A Country Living Book)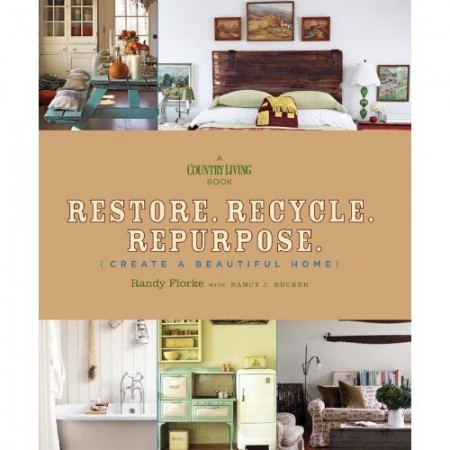 And when I say gorgeous, I mean gorgeous! I LOVE this book!
(I really wanted to keep this book for myself, but it's more fun to give than receive, right?) 🙂

This book is full of beautiful photos and inspiring ideas on how everyone can create a home that's as harmonious with the environment as it is beautiful. The book is jam-packed with great, practical advice on ways you can "go green" in each room of your home.
Do you want to know how this lovely book can be yours?
It's easy!
Here are the details!
You can do any or all of these for a chance to win:
Leave us a comment. Do you have any fun or unique ways to decorate eggs for Easter? Or any fun tips on "going green" in your home?
Subscribe to our Feed and leave us a comment letting us know if you already subscribe or if you're a new subscriber.
Subscribe via email. (It's easy to do in our top right sidebar!) Leave a comment if you already subscribe via email or if you're a new subscriber.
Like us on Facebook and leave us a comment letting us know that you Like us.
Tweet this post and leave us a comment that you tweeted it.
Stumble this post and leave another comment to let us know it's stumbled.
So, there you have it. You can enter up to seven times! Since the winner will be chosen at random.org; obviously, the more times you enter, the better your odds of winning this beautiful book.
This giveaway will officially end at midnight on Friday, March 18th and on Saturday, March 19th, we'll announce the winner and the next book giveaway!
(I'll let ya in on a little secret. If you follow us on Twitter or Like BigSisLilSis on Facebook, we'll be giving you some bonus chances to enter during these next six days.)

~LilSis