May 2, 2012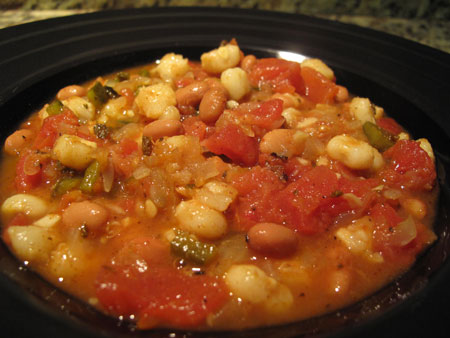 We talk all the time about our love of Mexican food, and we don't need ANY excuse to indulge. This weekend is Cinco de Mayo though, and I'm inspired to get in the cocina and rattle some pots and pans instead of just heading to the nearest tacqueria and trying to find something without meat, lard or cheese.
One of my favorite everyday go-to quick meals is Super Speedy Mexican Stew. It's essentially just canned tomatoes, corn, kidney beans and green beans with any spices that strike me. It's not fancy and I can't really even call it cooking; it's just decent food on the table and in my tummy in literally 15 minutes on a weeknight.
My new go-to Mexican veggie stew when I have a touch more time is Terry Hope Romero's Quick Red Chile Posole from Viva Vegan!: 200 Authentic and Fabulous Recipes for Latin Food Lovers
.  This is the first recipe I've tried from Terry's book, but it won't be the last.
It takes my simple little dish and turbo-charges it with flavor. It has a tomato base and includes a can of pinto beans and a can of white hominy. I just learned that the hominy is what makes it "posole".
There's magic though in the combination of onion, garlic, poblano pepper, chile powder, mexican oregano, cumin and lime. I followed the recipe precisely, and was really amazed at how tasty this little stew was after just 25 minutes of simmering.  It's warm, spicy, creamy, chunky and bright…all at the same time.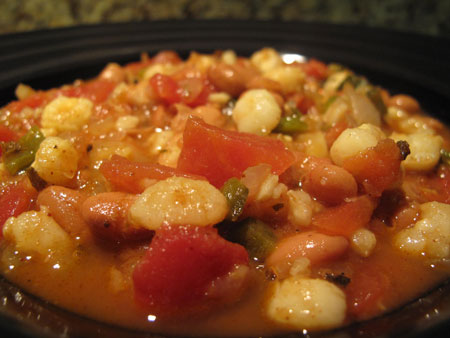 Traditionally, you would top the posole with a variety of garnishes: onion, cabbage, tomato, radishes, cilantro, or tortilla chips. I initially thought I would add a pinch of Daiya pepperjack shreds, a dollop of vegan sour cream and some avocado.
After just one bite of the posole I decided that it needed nothing…except to be devoured. Quickly. So I could refill my bowl, and repeat.
I'll definitely add this dish to my rotation and hope you'll give it a try for Cinco de Mayo or any old time!

~BigSis