July 24, 2012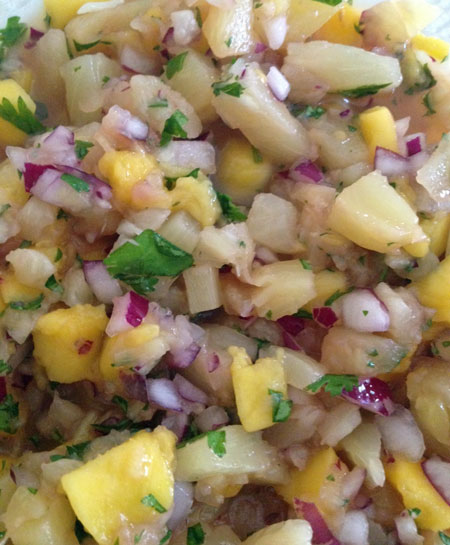 A few weeks ago, a friend of ours caught a huge fish just a few miles off shore and we were lucky enough to be there when they brought it in so he sent us home with about three pounds of freshly caught fish.
Due to the type of fish this was, we decided to make fish tacos with it and I made this Pineapple Mango Salsa at the request of my son. I love fresh mangoes but I'm not crazy about them with onion.  As a matter of fact; I don't eat raw onion at all. But, I made it anyway; cause that's what moms do.
But, that being said, this Pineapple Mango Salsa that I found on Pioneer Woman was a huge hit at our house. I didn't change anything, so if you want to try it, here's the entire recipe for this Pineapple Mango Salsa. Instead of serving it on fish tacos, you could serve this salsa on nachos as Pioneer Woman did.
It would have been nice to photograph this salsa actually on a fish taco, but as usual, when the guys are around, there's barely any time at all for me to snap a pic or two!

~LilSis