August 5, 2012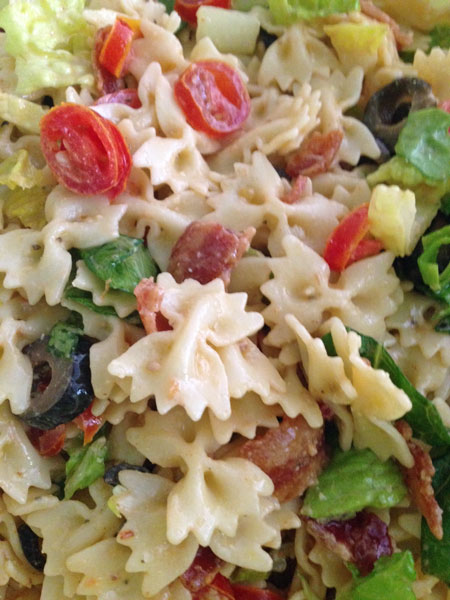 This is another super simple and delicious summertime pasta salad.
I don't normally eat much pasta; but there's something about the Summer that makes me want to experiment with different cold pasta salads. (And, I'll admit that I've never really been a fan of cold pasta salads.)
We have a lot of cookouts with friends in the Summer and not only are pasta salads easy to throw together, but they also feed big crowds and are a perfect side dish for grilled chicken, fish or burgers.
Last weekend I took Bry's favorite Angel Hair Pasta Salad to his birthday celebration with the family and several of his hungry fellow sailors. It was a hit, as usual, but we managed to save one small dish of leftovers for the birthday boy. 🙂
The Seashells with basil, tomato, and garlic pasta salad that I made for our 4th of July celebration was also a huge hit with all our friends and with a lot of our readers. A big thanks to all our new readers that found us via Pinterest!
I found the original recipe for the BLT Pasta Salad on Food Network; but I adapted it, like I always do.  I don't know why, but I just can't follow a recipe exactly as written. I'll read it a couple of times for inspiration and will almost always change it up.
I decided to nix the milk, sour cream and mayo in the original recipe and try some yummy Caesar dressing instead. Then I thought I might as well throw in some black olives and Parmesan to make it more like a Caesar salad.
It did not disappoint.
Caesar BLT Pasta Salad
(adapted from Food Network)
16 oz. mini farfalle (bowties)
1 lb. bacon
1 pint sugar plum tomatoes, sliced
1 c. Gardini's Caesar dressing
1 c. sliced black olives
1/2 c. parmesan
1 clove garlic, minced
1/4 c. olive oil
Juice of one lemon
4 c. chopped romaine lettuce
Cook the pasta in a large pot of salted water to al dente, then drain. (I cooked mine the night before and tossed it with the olive oil and lemon juice and marinated it in the refrigerator overnight.) This keeps the pasta from sticking together.
Cut the bacon into bite size pieces and cook in a large skillet until crisp. Drain on paper towels. Discard the bacon grease; leaving just a tablespoon or so in the skillet. Add the sliced tomatoes and minced garlic and toss in the skillet for just a couple of minutes to cook the garlic and soften the tomatoes. Remove from heat and let sit until cool.
Since the pasta is nice and cold from being refrigerated overnight; just mix in the Caesar dressing, bacon, tomato mixture, olives and Parmesan, then toss in the chopped lettuce at the end and it's ready to go! Serve at room temperature.
Again; simple and delicious.
Note: I've made plenty of pasta salads with spinach but this is the first time that I've made one with lettuce; and, at first, I was a bit skeptical as to how it would turn out.  But, my hungry, meat and potato eatin' guys raved about it and all my friends loved it.
Obviously, you want to serve this salad pretty soon after it's made so the lettuce doesn't get all limp and wilted; but we snacked on it hours later and it was still very good.
I really hope you'll try this one. Enjoy!
BigSis' Vegan Twist:  Adios to the bacon and parmesan for starters. I wouldn't sub a faux bacon, since most that I've tried wouldn't stay crispy in a moist salad. Many aren't vegan anyway. To replace the salty flavors from the bacon and cheese, I'd use a really flavorful kalamata olive, some capers, and a sprinkle of nutritional yeast.
We also need to cut the Caesar dressing since anchovies are part of the traditional recipe. We definitely want the Caesar flavors in this recipe but without the fishies, so we can make our own dressing or buy one. I think this recipe for vegan Caesar salad dressing sounds awesome. Follow Your Heart makes a vegan Caesar salad dressing if you don't want to make your own. That should do it!

~LilSis