August 11, 2012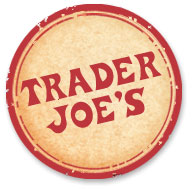 There's a lot to love about Trader Joe's; not the least of which is that they carry plenty of vegan products and they're easily identified with a "V" on the front of the package.
We've only had Trader Joe's stores here in Texas for two months now, and I've already made three 90-mile round trips to stock up on products that I can't get anywhere else. These are some of my favorite vegan Trader Joe's products so far.
I'm planning to keep updating this list, and to make it easily accessible from our home page. If you have any favorite items I should check out, let me know!
Snacks
Pretzel Slims: Everything
Reduced Guilt Pita Chips with Sea Salt
Wasabi Roasted Seaweed Snack
Pantry Staples
Brown Rice Medley
Harvest Grains
Diced & Fire Roasted Organic Tomatoes with Organic Green Chiles
Artichoke Antipasto
100% Spanish Organic Extra Virgin Garlic Flavored Olive Oil
Almond Butter with Roasted Flaxseeds
Cranberry Apple Butter
Semi-Sweet Chocolate Chips
Nuts
Sliced Roasted Unsalted Almonds
Whole Roasted Unsalted Almonds
Sweets
Dark Chocolate Nutty Bits
Refrigerated Items
Organic Tofu Veggie Burgers
This is Not a Tub of Cream Cheese
Chunky Olive Hummus
Cut and Cleaned Bag of Kale
Tangerine Juice
Reduced Fat Mayonnaise
Frozen
Chicken-less Mandarin Orange Morsels
Falafel
Dorot Crushed Garlic
For a complete list of Trader Joe's vegan products,
please see the guide on their web site.

~BigSis